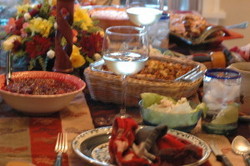 If you www.platefullofmemories.com [create a cookbook] full of favorite family recipes and stories about your family, you will have crafted a family treasure that will be priceless for everyone
Minneapolis, MN (PRWEB) July 24, 2008
During tough economic times, many people cut back on their holiday gift-giving. But it doesn't have to be that way. Consider giving the gift of your time and creativity with a unique homemade present. One great option is to create a family recipe cookbook, an heirloom that will be treasured by those who receive it -- and savor the delectable food made from it.
While the holidays might seem far away, now is the perfect time to start a cookbook project. That gives you plenty of time to finish it before Christmas, Hanukkah, or other gift-giving occasions. Regular crafters and novices can get a head-start on their family cookbook project by using ''A Plate Full of Memories'' CD-ROM.
This unique program makes a cookbook project accessible to anyone. Retailing for $24.95 (amazon.com), it comes with an easy-to-use instructional coaching guide, including documents that can be personalized on the computer or filled out by hand. Charts keep you organized throughout the project. It also offers ideas and tips for creating a cookbook that tells the story of your family through its recipes and stories. There is no limit to the creativity you can employ when making your cookbook.
"If you create a cookbook full of favorite family recipes and stories about your family, you will have crafted a family treasure that will be priceless for everyone," says Hella Buchheim, a personal historian who developed the CD-ROM after finding existing products too complicated. "It will be valued as an heirloom for generations to come."
In addition to creating a gift that your family will cherish, giving a family cookbook as a holiday gift can make your holiday preparations a lot less stressful. Instead of driving around town shopping at a variety of stores, using up expensive gas in the process, you can complete this project at your leisure from home. The cookbook can be as simple and inexpensive or as elaborate as you'd like. Or start small with a limited number of pages and add more recipes each year. A family cookbook even can be considered an environmentally friendly gift if it's printed on recycled paper.
"One of my saddest regrets is the loss of my family recipes," Buchheim says. "I blame it on the language since my grandmother never learned English and because she never wrote down most of her recipes. It is the inability to recreate these foods that compelled me to create a user-friendly way to make a family cookbook."
Don't let this happen to your family. Start now and create a beautiful cookbook your family and future generations will prize for years to come. Everyone will enjoy eating the same dishes that your relatives have savored for years, and you'll be gratified that a part of your family history has been preserved.
About the author
Personal historian Hella Buchheim has united her interests in writing, cooking, and legacy preservation with the creation of ''A Plate Full of Memories'' CD-ROM. The daughter of Holocaust survivors, Buchheim is passionate about recording and preserving family history. It motivated her to create ''A Plate Full of Memories'' to benefit others who seek to capture and document precious family memories.
In addition, Buchheim offers tele-classes and one-on-one coaching. She teaches the necessary skills to create one-of-a-kind cookbooks or memoirs that reflect the personal relationship between food and family. Buchheim is a member of the Association of Personal Historians and author of ''Erinnerung, Gedanken, Memories…Survival of the Human Spirit'' and ''A Mountaineer Hmong Boy's Life with Yakao Yang.'' As a personal historian, she helps people preserve their personal and family stories. She lives and cooks in Hopkins, Minnesota.
Contact:
Hella Buchheim
612-203-2103
Web site: http://www.platefullofmemories.com
Blog: http://blog.platefullofmemories.com
###