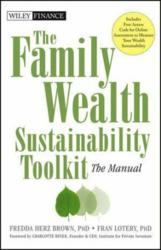 In our work with families, we have heard over and over again the desire to have more information about what they ought to be doing to help their families have long-term success
New York, NY (PRWEB) April 08, 2013
The Winter 2013 issue of Family Business Magazine included an article titled "An Online Assessment to Determine Steps your Family Should be Taking", a review of the new online assessment and companion manual called The Family Wealth Sustainability Toolkit. This family wealth resource was reviewed by Family Business Magazine's Editor-in-Chief Barbara Spector. Her review introduced the co-authors Fredda Herz Brown and Fran Lotery as experts in the field of family enterprise and called their work "An online assessment to determine steps your family should be taking".
Authors Herz Brown and Lotery are the founding principals of consulting firm Relative Solutions LLC, and are also Ph.D. researchers in the field of family enterprise. They developed the Toolkit through their extensive experience in working with families of wealth. "In our work with families, the article quotes the co-authors as saying 'we have heard over and over again the desire to have more information about what they ought to be doing to help their families have long-term success.'"
The Toolkit, comprised of an online assessment tool and companion manual purposely uses the word "sustainability" to describe the challenges of family enterprise transition. Co-author Fran Lotery says, "Sustainability was the phrase we chose for the title of our manual because it speaks more fully than commonly used family business consulting phrases like 'continuity' or 'succession' does." The Family Business Magazine article continues to explain that their notion of sustainability "was inspired by the United Nations World Commission on Environment and Development: "[the ability to meet] the needs of the present without compromising the ability of future generations to meet their own needs."
The online self-assessment tool and companion manual addresses four critical dimensions of family wealth sustainability: family legacy and connection, governance structure and processes, financial accountability and management, and human capital and leadership development. "The better the management of the business of the family," co-author Fredda Herz Brown adds. "The more sustainable it will be. Successful multigenerational enterprising families no longer view themselves simply as the owners of a business, but rather as investors building a portfolio of assets that enhances all those who are stakeholders."
The full article is available to subscribers of Family Business Magazine, a national publication that serves multi-generational family enterprises. More about the annual subscription can be found online.
The Family Wealth Sustainability Toolkit is an online assessment tool and manual that helps users to consider, in a comprehensive and systematic way, how their family is progressing toward meeting its long-term goals, and for them to compare notes with their family members. It is available at Amazon.com and Wiley Publishing.
About Relative Solutions, LLC.
Relative Solutions is a firm that manages change with families as they look to transition their wealth from generation to generation. Whether they are working with a family on the meaning and impact of wealth, or on issues of governance, strategic planning and philanthropy, Relative Solutions helps families to achieve their stated goals. To learn more visit: Relative-Solutions.com