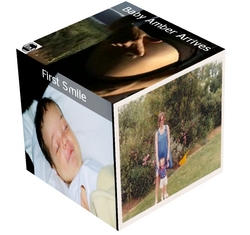 showcasing life experiences that we have every day and sharing them with family and close friends.
Vancouver, BC (PRWEB) August 21, 2009
Arcalife has launched their latest application: the patented Life Cube. Life Cube is a multimedia application, accessible on the arcalife website and as a Facebook application, that allows users to bring all of their best photo and video moments together in a fantastic animated 3D showcase.
The Life Cube is a perfect tool to highlight memories from weddings, graduations, birthdays, and even memorial events. The arcalife team also sees this tool as a great way for visual artists and musicians to show off their work, or for companies wanting to use it to easily display professional projects or products. Being able to add music, videos, control the rotation speed of the cube and overlay text on each frame, means that you can create an extremely professional result that works in time with the music and is in keeping with the message you are trying to deliver in your promotion or showcase. Best of all it can be done in a matter of minutes and shared publicly or with a specific, defined private audience.
VP of product and technology Daniel Dekkers says, "The great thing about the Life Cube is that you can use it to play your life from beginning to end. Modern technology has made this kind of digital showcase accessible to the end user. In the past this would have cost you hundreds or even thousands to have this custom made. Now you can upload your photos and video to arcalife and literally create a unique view of your life in minutes."
To kick-start the launch of the Life Cube, arcalife is running a contest for the most innovative and inspiring Life Cube. The winner will collect $500 - CASH. The first 5 people who share the winner's Life Cube link through social networks Facebook or Twitter will also win $50 each - so everybody wins! It's free to enter with a few simple steps to follow. Read about the Life Cube contest details on arcalife.com.
Arcalife is a family centric social website where its members can securely and privately capture and share memories, stories and family history. CEO Paul Taylor says that the site is about "showcasing life experiences that we have every day and sharing them with family and close friends." As well as letting you research your family history, the site has a number of unique multimedia applications.
Contact:
Paul Taylor, CEO and Founder of arcalife
604-671-4299
paul.taylor AT arcalife.com
@taylorpm
@arcalife
http://arcalife.com
http://www.arcalife.com/marketing-cube.aspx
###