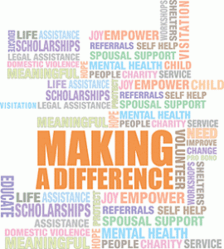 (PRWEB) August 30, 2012
Many non-profit organizations offer services and resources to men, women and children who are in need as a result of family issues such as divorce, domestic violence, poverty, etc. Many family lawyers are making a difference by donating money, and volunteering their time and skills to these organizations.
To support their generous efforts, Divorce Magazine and Family Lawyer Magazine created the Charity Funding Challenge to increase awareness of these worthwhile organizations and further empower them by donating $1,000 cash and $5,000 in marketing services from Divorce Marketing Group, the publisher of Divorce Magazine and Family Lawyer Magazine.
This Charity Funding Challenge has extended its deadlines for nomination and voting
1. New deadline for voting for your favorite charity: December 31, 2012.
To vote for a charity, please go to http://familylawyermagazine.com/articles/charity-funding-challenge.
2. New deadline for nominating a charity: November 30, 2012.
To nominate a charity, go to http://familylawyermagazine.com/articles/nominate-a-charity.
The winner will be announced on January 15, 2013. For more information please contact Martha Chan at 1 888-217-9538 or email charity(at)familylawyermagazine(dot)com.
Charities that have already been nominated to date include:
National, U.S. – American Academy of Matrimonial Lawyers Foundation
CA, Los Angeles – Harriett Buhai Center for Family Law
CA, Los Angeles – Levitt Quinn Family Law Center
IL, Evanston – The Lilac Tree
ON, Toronto – Jewish Family and Child Service
About Divorce Magazine, Family Lawyer Magazine and Divorce Marketing Group
Divorce Marketing Group is the only marketing agency dedicated to helping family lawyers and divorce professionals grow their practices. We understand the divorce market better than any other agency and can help divorce professionals effectively reach divorcing people with the best message possible. We own and publish Divorce Magazine and Family Lawyer Magazine. Launched in 1996, Divorce Magazine is North America's only magazine devoted entirely to divorce. Launched in 2012, Family Lawyer Magazine assists family lawyers excel in their practice and live a balanced life.
For more information, please visit http://www.FamilyLawyerMagazine.com, http://www.DivorceMagazine.com and http://www.DivorceMarketingGroup.com, or contact our CEO and Publisher Dan Couvrette at (888) 217-9538 ext. 124 or email DanC(at)divorcemarketinggroup(dot)com