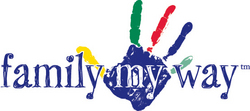 This online community is for anyone wondering, 'Are there other families like ours, facing the same issues
Marathon, FL (PRWEB) June 4, 2008
Family My Way, the Internet's newest and most unique online community, launches today at http://www.familymyway.com. Bringing together families of all makeups and sizes, Family My Way seeks to redefine the traditional concept of today's nuclear family into a more modern and encompassing model. Family My Way is the modern-day family.
"This online community is for anyone wondering, 'Are there other families like ours, facing the same issues," says Maggie Sayer, founder of Family My Way. "From the traditional family with a white picket fence and 2.5 children, to two dogs and two daddies, to the single person with four dogs and a ferret...family is subjective. Gay, straight, black, white or purple I envision a place where everyone is welcome. Family My Way recognizes the variety in today's modern families, and celebrates how they tackle challenges brought on by traditional expectations and social norms." At familymyway.com merchandise is also available that conveys this message.
The web site resources include a message board for families to identify and interact with other families of similar design, facing similar challenges. Users can read and share in weekly polls, opinions and discussions of specific topics. As part of the online community, each member has a profile and the ability to share pictures, create and share their own blogs, make connections with others like them, invite others to join, as well as send and receive private messages through the site. The Family My Way retail shop offers merchandise including tshirts, visors, bags, custom baby keepsake books and stickers.
Be proud of your family, whoever and whatever it consists of.
###