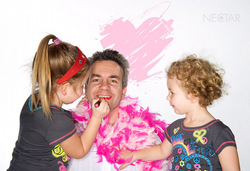 "We're about action, high energy and expression during the shoot,"
Encinitas, CA (PRWEB) July 26, 2010
A new Encinitas studio and gallery is aiming to stand portrait photography on its head. A grand opening party, the "The NECTAR Flash Bash" is planned for Saturday, August 7th at 6-8 PM. The celebration launches the new business.
The tony space at Moonlight Beach looks more like a spa or designer showroom, and while the back houses a state of the art cyclorama wall (a white, seamless background for Apple-style shooting) and digital photo equipment, the people at NECTAR don't like being called photographers.
What then, are they? "We call ourselves image designers," says creative director Richard Hawk. "It helps us keep our heads on straight."
They rely on tools and techniques from the advertising and fashion industries, says Hawk, and they actually avoid much of the stock in trade of traditional photographers. No static head shots, weddings or families on the beach. Nothing much at all, in fact, that is posed in any way.
"We're about action, high energy and expression during the shoot," explains Hawk. "Then we're extremely selective, choosing the most expressive or unusual takes. Finally, we bring in all the capabilities of the computer, to make the images into something special, even combining them with graphics in some cases."
Oversized, ad-style shots on the walls have stopping power - the scale of them, the movement, the unusual metallic paper - all combine for a look that is commanding and very contemporary. Most of the gallery images at NECTAR don't have frames, but are embedded in sheets of thick, clear, glass-like material, and look like mini billboards, or promos from The Hills. Families running full tilt at the camera, or wrestling for a football, round out the scene.
Do you have to look like a model to get 'designed up' at NECTAR? No, says a perky, blonde junior designer, looking up from her giant Macintosh monitor. "Being a regular person is just fine. Though you may not look or feel like one by the time we're done with you!"
The NECTAR studio and gallery is located just off Interstate 5 at favorite coastal spot, Moonlight Beach. "The NECTAR Flash Bash" location is 90 North Coast Highway 101 in Encinitas. See the NECTAR web site at http://www.nectarpix.com for details and RSVP.
Ready to reinvent yourself? Show up and check it out.
# # #