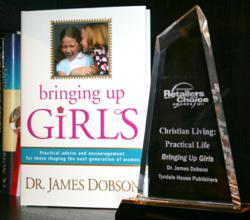 Since its release in 2010, Bringing Up Girls has rapidly grown in popularity with both Christian and general audiences.
Colorado Springs, CO (PRWEB) November 15, 2011
Dr. James Dobson's latest bestselling book, Bringing Up Girls, has been awarded the 2011 Retailers Choice Award in the Christian Living/Practical Life category. Christian retailers throughout the country selected the winning products in each category from more than 350 books and resources nominated for consideration in 39 groupings.
Sponsored annually by Christian Retailing magazine, the Retailers Choice Award was first introduced ten years ago and has been "…increasingly acknowledged as an important way of recognizing some of the most significant new life-changing products in the Christian retail industry." Nominated products are judged "...on the impact they have had on staff and customers, including their ability to speak to people's hearts and evoke emotion, open people's minds to new ways of thinking, and encourage and affirm Christ-like living," according to the periodical: http://www.retailerschoiceawards.com/
Since its release in 2010, Bringing Up Girls has rapidly grown in popularity with both Christian and general audiences. It was recently included on the New York Times list of best-selling books. Published by Tyndale House Publishers, Bringing Up Girls is a companion to Dr. Dobson's earlier bestseller, Bringing Up Boys (Tyndale House Publishers, 2002, 2005).
Over the years many of Dr. Dobson's books, video series, and Christian radio programs have received recognition and awards, for which Dr. Dobson is very grateful. But he acknowledges that Bringing Up Girls was a complicated project and more difficult to write than most of his other books, so he is especially appreciative of this recognition from the Christian retailers.
Based on extensive research and handled with Dr. Dobson's trademark down-to-earth approach, Bringing Up Girls equips parents who are raising daughters, and who are dealing with the many issues facing young women today, to help their girls become healthy, happy, and successful women who ultimately excel in life. Complex issues such as peer pressure, eating disorders, decisions about love, romance, and sex, in addition to academic demands and life goals, are just some of the challenges that young women face today. Bringing Up Girls will guide parents through these and many other important topics, whether their daughters are still playing with dolls or going through the turbulent teen years.
In short video clips at the publisher's website Dr. Dobson can be seen describing some of the highlights of this important book.
Bringing up Girls is offered, both as a printed book and an audio book, at Family Talk, the dynamic communications ministry Dr. Dobson and his colleagues launched less than two years ago. You can also find this resource wherever books are sold. When Bringing Up Girls and other Dobson titles are purchased through Family Talk, a portion of the funds also help support that growing ministry.
Family Talk is a member of the Evangelical Council for Financial Accountability. For more financial information see the ECFA website.
Dr. Dobson's illustrious 33-year career as founder and president of Focus on the Family concluded when he resigned in early 2010, leaving that ministry in a strong position to continue nurturing and defending families around the globe.
Yet he continued to be personally concerned about the important developmental, cultural and spiritual challenges with which families in the 21st century are contending --challenges in many ways greater than ever before in history. And he sensed God's persistent call on his life to help minister to parents and their children even as they strive, against many opposing influences, to establish and preserve loving, caring homes based on Biblical wisdom and truth. So in March 2010 Dr. Dobson launched a brand new communications ministry: Family Talk.
The centerpiece of this new organization is the 30-minute radio broadcast, "Family Talk with Dr. James Dobson," strategically designed to reach the younger generation with the Judeo-Christian worldview of the family. The program was the largest launch in Christian radio history and is now heard on over 700 U.S. radio stations and outlets. Family Talk, hosted by Dr. Dobson, his long-time associate Luanne Crane, and his son, Ryan Dobson, provides insight and advice on a range of important family issues. http://www.myfamilytalk.com/
###