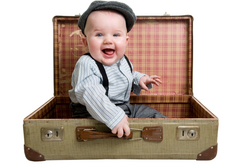 Denver, CO (PRWEB) September 30, 2009
WanderTot.com is the place to go for the latest family travel deals, the best places to travel with kids, the funniest family vacation stories and the most helpful tips for traveling with kids.
In this economy, many families have reduced or cut their travel budget completely. This may affect their children more than they think--according an analysis of a U.S. Department of Education study released last week by VacationBetter.org, first-graders who took a family vacation over summer break did better in reading, math and general knowledge than their peers who did not vacation. WanderTot inspires families to travel again and provides tips on how to travel on the cheap.
WanderTot tells of a four-day family vacation to Las Vegas for just $200 and lets readers in on their money-saving secrets, with plenty of ideas for free and cheap things to do in Las Vegas with kids. Other affordable, kid-friendly destinations covered so far include Estes Park in Colorado's Rocky Mountains and San Diego, California, with reports on Orlando and Miami, Florida; Kodiak, Alaska; Paris, France; and many more family vacation destinations to come.
WanderTot also provides family travel news, including a recent post detailing Universal Studio's plan to open a new Harry Potter theme park--The Wizarding World of Harry Potter--in spring 2010. With the latest travel news of interest to parents, along with WanderTot's weekly "Travel Website of the Week" segment, this new family travel blog is a great resource for anyone traveling with kids.
Travel with kids can be a daunting task. WanderTot provides parents peace of mind with travel packing tips and tricks, a step-by-step guide to getting baby a passport, travel gear reviews and many more tips to come, including tips on flying with babies and toddlers and the best toys for travel with kids.
Holly Chatelain, the mom behind the blog, said, "It's such a magical moment when your kids see something for the very first time. Traveling with kids can be challenging at times to say the least, but it's so worth it in the end. WanderTot provides parents with all the information and inspiration they need to get out there and show their kids the world."
Debbie Dubrow of DeliciousBaby.com, a top family travel website, called a recent post on "5 Ways to Ensure Disaster When Traveling with Kids" "hilarious" and featured it in her "Weekly Links: Great Family Travel Stories and Giveaways" segment. Whitney Trujillo, founder of The Mother List, commented on the post about Las Vegas, "GREAT post! Who knew Vegas could be so kid friendly?"
For additional information on WanderTot.com, contact Holly Chatelain or visit http://www.wandertot.com.
About WanderTot: Veteran traveler Holly Chatelain began blogging about her travels with her 21-month-old son Jack in order to share the trials and tribulations (and the joy!) of traveling with kids. A former writer and editor for Musician's Friend, Chatelain is no stranger to the world of publishing. In her first blog, she joins her love of traveling, writing and being a mother.
Contact:
Holly Chatelain,
WanderTot • 303-748-5329
http://www.wandertot.com
###