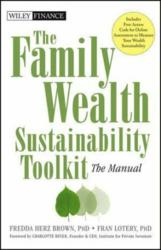 Our Toolkit is designed so users experience learning in a cumulative way; as they follow the steps in the Toolkit they uncover useful information about themselves and the family enterprise as a whole
New York, NY (PRWEB) April 30, 2013
The Family Wealth Sustainability Toolkit is a new handbook and online resource that helps high-net worth family enterprises and their advisors uncover critical conversations, discover best practices and plan for the future of the family in a unique learn-as-you-go, self-discovery toolkit. Created by family-enterprise experts Fredda Herz Brown, PhD and Fran Lotery, PhD, the Toolkit helps users gain insight into their family-enterprise management, growth and leadership experience with a series of "informational questions" that simultaneously educate the users on successful sustainability practices. The unique 'learn by doing' integrated process empowers family members and their participating advisor(s) with instant results that families can learn and grow from.
Fredda Herz Brown, PhD, co-author of The Family Wealth Sustainability Toolkit says "We help enterprising families 'learn by doing', but not in the traditional sense. Our Toolkit is designed so users experience learning in a cumulative way; as they follow the steps in the Toolkit they uncover useful information about themselves and the family enterprise as a whole. During that self-discovery we introduce the concepts of successful sustainability for enterprising families. It's an approach that helps families understand the enterprise as a whole, how each individual fits in and plan for a sustainable future."
The Family Wealth Sustainability Toolkit is a two-part system. It is a comprehensive and highly practical online Index that carefully explains exactly how affluent families and their financial advisors can best utilize and prepare their wealth now and for generations to come. Individual family members login and answer the "informational questions", assessing how much the family, as a unit, utilizes best practices to help build structures, decision-making processes, and leadership over generations. The manual of the Toolkit uses a hands-on approach for family participants to reflect on what is and isn't working within the family and then fixing it.
The unique hands-on approach used by The Family Wealth Sustainability Toolkit provides the entire family, and family advisors, with instantaneous results for overall assessment and achievement of the family goals. As each individual user goes through the process they are contributing data in real time.
"The Toolkit helps families successfully navigate the complexities of family business," says co-author Fran Lotery, PhD. "The Family Wealth Sustainability Toolkit gives wealthy individuals, family offices, and the financial planners, advisors and wealth managers who counsel them, the tools they need to better assess their wealth sustainability skills with instant results and knowledge regarding their unique family enterprise." Lotery goes on to address that families and financial planners needed an integrated assessment tool that helps families see the big picture while allowing each user to maintain their unique voice and perspective and have it count toward the whole.
"The Toolkit addresses each unique user's perspective and helps the family create a strategic plan for sustainability in the future. The toolkit helps to address how the shaping of the family legacy allows each generation to contribute, and what is required of the next generation to effectively lead into the future. It also covers how to meet current human and financial capital needs of family members that ensures sufficient resources for future generations; and how each branch, generation and family as a whole make decisions."
The Family Wealth Sustainability Toolkit is available at Amazon.com. Access to the online Index is added value with every handbook. The online Index comes with the handbook or can be purchased alone on the book's website http://www.familywealthsustainability.com.
About Relative Solutions, LLC.
Relative Solutions is a firm that manages change with families as they look to transition their wealth from generation to generation. Whether they are working with a family on the meaning and impact of wealth, or on issues of governance, strategic planning and philanthropy, Relative Solutions helps families to achieve their stated goals. To learn more visit: Relative-Solutions.com