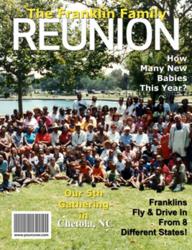 Wilton, CT (PRWEB) June 28, 2013
Most family reunions take place during the summertime. The kids are out of school and the weather is fine in all the different parts of the country. A family reunion can be small consisting of just 20 or 30 attendees or can reach up into the hundreds with extended family members flying and driving in from every corner of the map.
Many businesses exist to serve the reunion industry including location services, catering, photography and memorabilia. With the expansion of the internet finding far-flung cousins, aunts and uncles has become much easier. Large meals, games, and awards are shared during the 2-day to week-long festivities.
YourCover has introduced a Family Reunion personalized magazine cover that can be used as a gift or keepsake to commemorate this milestone occasion. The custom magazine cover can be used in one of two ways. The first is to make a magazine cover prior to the reunion and to personalize it with the upcoming events of the reunion. A copy can be placed in each attendee's hotel room or distributed at the first event or even by mail prior to the reunion. The optional back cover feature can be used to give more details and an agenda.
The other option is to create the magazine cover after the reunion and to customize it with a group photo from the event as well as headlines that recall the special memories and events that took place during the reunion. The personalized magazine cover can then be mailed to each participant as a reunion gift or keepsake.
To create a magazine cover, reunion organizers follow three simple steps:
1) Choose the Reunion magazine cover template
2) Upload a photo of the family, the family crest, or perhaps the reunion locatin
3) Personalize the default headlines to be all about the reunion, the events, and the attendees.
Organizers can choose to purchase a photo file download of their fake magazine cover to print themselves or YourCover can print the magazine covers. Accessory items such as t-shirts, posters and mugs are also available.
Celebrating a family reunion is an exciting and memorable occasion, organizers can keep those memories alive for years to come with a personalized Family Reunion magazine cover, a unique reunion gift/keepsake, from YourCover.com.