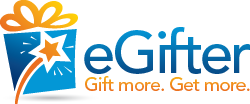 Fanatics.com has the best selection of officially licensed sports merchandise, which is very popular for holiday gift giving...
Melville, NY (PRWEB) November 27, 2012
eGifter has teamed up with Fanatics.com for an exclusive Holiday special offer. During this limited offer period, Fanatics.com eGift Cards are available from eGifter at a 15 percent savings. The offer ends at Noon eastern on Thursday, December 6, 2012.
"Fanatics.com has the best selection of officially licensed sports merchandise, which is very popular for holiday gift giving," said Tracey Klein, VP of Business Development. "eGifter is a great way for a retail brand like Fanatics to extend their reach during the gift-giving season and beyond through credible friend-to-friend marketing."
eGifter users can also purchase eGift cards from dozens of other leading brands to give as gifts or keep for themselves. When given as gifts, eGift cards are posted to the recipient's Facebook wall on a specified date. Their Facebook friends can join in by making a contribution of their own, turning it into a group gift. Specific contributors can also be invited via email and SMS, both on the web and via the eGifter mobile app for iOS and Android.
eGifter's social gifting campaigns can be used as a tool for retail brands to monetize prior social investments by activating a powerful social chain reaction through their own fan base.
Retail brands interested in acquiring customers through social gifting can offer several different types of promotions though eGifter.. "Our partners can use eGifter to launch innovative campaigns such as a "Give-one, Get-one," which is a great way to deliver loyalty while acquiring new customers", said Klein. As with all of the company's services, retailers only pay a fee for the service when the recipient uses the eGift Card, making it a true Cost-Per-Acquisition model.
Retailers interested in learning how GroupGifting.com can help them accomplish their social and mobile commerce goals can visit http://www.groupgifting.com/retailers/.
About GroupGifting.com
GroupGifting.com develops innovative social and mobile technologies designed to revolutionize the act of gift giving. Our offerings create a fun and social experience for consumers while helping retailers unlock the viral potential of gift giving in social spaces. Founded in 2011 by a group of proven tech entrepreneurs, GroupGifting.com is based in New York. Visit eGifter at http://www.eGifter.com.
About Fanatics, Inc.
Fanatics provides e-commerce, merchandising, marketing and fulfillment services for professional sports leagues and teams, collegiate athletic programs and conferences, and other major sports properties. Offering broad assortments online consisting of hundreds of thousands of officially licensed items, Fanatics leverages both its large network of partners and its own collection of proprietary brands to distribute goods to consumers all over the world. http://www.fanatics.com.