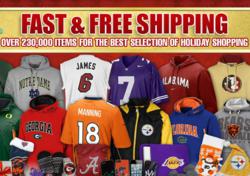 Jacksonville, FL (PRWEB) November 22, 2012
Sports fans looking to save time and money this holiday season? Look no further than Fanatics.com, which announced today that it will roll out special 'Black Friday' and 'Cyber Monday' deals for its customers, set to begin on Thanksgiving Day, Thursday, November 22. Fanatics.com, a leading online retailer of officially licensed sports merchandise, will provide an additional 20% discount to over 20,000 items already on sale. Plus, customers will get free, 3-business day shipping for any order of $50.
Fanatics will provide the ultimate shopping experience to sports fans this holiday season, offering the largest selection of top quality products for hundreds of teams across the country, with discounts on everything from jerseys, t-shirts, hats, holiday ornaments, home decor and more. The online retailer acts as a one-stop-shop for sports fans looking to get their hands on their favorite team gear, while avoiding the long lines many shoppers have become accustomed to during the usual day-after-Thanksgiving rush. With an endless assortment of products (over 250,000 officially licensed sports items) and 24-hour customer service, customers can shop at their own convenience without the stress that comes with Black Friday. Fanatics begins offering this sale on Thanksgiving Day, ending 'Cyber Monday', November 26.
Visit Fanatics.com today for all your holiday merchandise.
About Fanatics
Fanatics, Inc., a leading online retailer of officially licensed sports merchandise, provides the ultimate shopping experience to sports fans. Comprising the broadest online assortment, Fanatics offers hundreds of thousands of officially licensed items via its Fanatics (http://www.fanatics.com) and FansEdge (http://www.fansedge.com) brands. In addition, the Company powers the e-commerce sites of all major professional sports leagues (NFL, MLB, NBA, NHL, NASCAR, PGA), major media brands (ESPN, NBC Sports Network, CBS Sports, FOX Sports) and over 100 collegiate and professional team properties. For more information, please visit http://www.fanaticsinc.com.