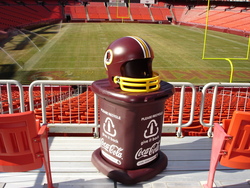 "The reaction from baseball and football fans and teams to our recycling and waste containers has been overwhelmingly positive, and we're committed to helping our clients achieve their recycling and waste management goals."
Baltimore, MD (PRWEB) November 20, 2009
Fan Cans, LLC is once again helping Coca-Cola make a positive difference in the world by expanding the supporting role first played this baseball season in Coke's "Give It Back" sustainability campaign. Coca-Cola North America and Coca-Cola Bottling Co. Consolidated recently purchased more Fan Cans – this time with lids shaped like football player helmets - for the Baltimore Ravens, Washington Redskins, and NC State Wolfpack. The innovative football-themed recycling containers grab fan attention, making it easier for Coca-Cola to achieve its long-term goal of collecting and reusing 100% of its bottles and cans.
After purchasing baseball-themed Fan Cans recycling containers earlier this year for the Washington Nationals, Coca-Cola has expanded its "Give It Back" recycling initiative, utilizing Fan Cans in the NFL and NCAA. "We're thrilled to be included in Coca-Cola's sustainability plans," notes Stephen Wolford, President of Fan Cans, LLC. "The reaction from baseball and football fans and teams to our recycling and waste containers has been overwhelmingly positive, and we're committed to helping our clients achieve their recycling and waste management goals."
Fan Cans can be produced with team and sponsor logos in any color, making it easier for teams, sponsors, and sports facilities to "go green" in an impactful and fun way. The 45-gallon waste receptacles and recycling bins utilize up to 50% post-consumer and industrial plastic, are highly-durable for expanded service life, and are 100% recyclable at the end of their life cycle.
As Fan Cans, LLC continues on the green path for its clients, a new container with a motor sports driver helmet theme is underway to appeal to yet another passionate fan and sponsorship base.
About Fan Cans, LLC:
Fan Cans, LLC is a Maryland-based company that has designed and patented sports affinity commercial waste and recycling container lids, and has a strategic manufacturing relationship with Toter, Inc. Fan Cans was nominated for the Baltimore Business Journal's "Green Entrepreneur and Green Product of the Year," in 2009. For details, please visit http://www.fancans.com.
# # #