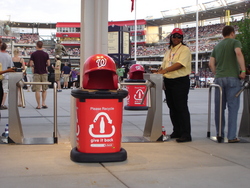 Green Entrepreneur and Green Product of the Year
Baltimore, MD (PRWEB) June 11, 2009
Fan Cans, LLC is hitting home runs coast-to-coast with its unique line of sports-themed recycling and waste containers. A growing list of Major League Baseball teams, Minor League Baseball teams, and regional and national sponsors are utilizing the innovative Fan Cans receptacles to boost their sustainability initiatives, enhance the fan experience, and increase brand connections.
Fan Cans, LLC's unique recycling and waste receptacles with baseball batter helmet lids have been placed in stadiums across the country this season, from the Los Angeles Angels to the New York Mets, the San Jose Giants to the Fort Wayne TinCaps -- to name a few. National and regional sponsors, including Coca-Cola North America, United Site Services and Republic Services' National Serv-All, have also purchased Fan Cans to help achieve their sustainability goals and improve brand exposure as well.
"Sports teams and sponsors are realizing the value Fan Cans bring to their efforts in connecting fans with their brand, creating green impressions, and encouraging environmentally-friendly facilities and behaviors," explains Ramsey Crosby, COO of Fan Cans, LLC. "Sports fans really take notice of Fan Cans and use them. And if fans are using Fan Cans, then the sponsor and team brand exposure is high, facilities are cleaner, and the recycling collection process is much more efficient," adds Crosby.
Fan Cans recycling bins and waste receptacles feature lids shaped like baseball batter, football player and motor sports driver helmets. They can be produced in any color and branded with any team and corporate sponsor logos. Team, sponsor and recycling decals can be affixed to Fan Cans as a tactic in visually distinguishing them from ordinary receptacles. Not only are Fan Cans eye-catching and fun -- making brand activation more effective -- they're also designed to make the collection of recyclable materials easier.
Crosby notes, "Sustainability is a core value today, and Fan Cans are a proven, affordable avenue for sports teams, sponsors, and other organizations to get their brand noticed while also exercising good stewardship of our environment. Fan Cans utilize up to 50% post-consumer and industrial plastic, are highly-durable for expanded service life, and are 100% recyclable at the end of their life cycle."
About Fan Cans, LLC:
Fan CansTM, LLC is a Maryland-based company that has designed and patented sports affinity commercial waste and recycling container lids. Nominated in 2009 for the Baltimore Business Journal's "Green Entrepreneur and Green Product of the Year," Fan CansTM has a strategic manufacturing relationship with Toter, Inc. For details, please visit http://www.fancans.com.
###