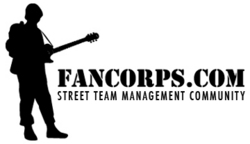 nobody knows online promotion like the guys at MySpace Records. MySpace is so instrumental for bands and labels, there's no doubt it is an amazingly effective tool, however when used along with a Fancorps team it can take an artists' relationship and communication with the fans to an even higher level. It's the age old theory of
Dallas, TX (PRWEB) September 4, 2007
MySpace Records has teamed up with Fancorps.com to provide street team management for its roster. Utilizing Fancorps' unique Web 2.0 interface the label has already had great success growing the teams to several hundred teamers each. "The team at Fancorps.com have made it totally possible for us to set-up, run, and oversee our own street teams!" says Danny Ornelas, Director of Marketing for MySpace Records. "Without them, there is no way we could have created this kind of cohesive promotional platform. They provide, without a doubt, the most necessary tool that every band should utilize to round up and maximize their fan's collective enthusiasm."
On the heels of releasing new albums from Sherwood and Kate Voegele, and with upcoming fall tours for both, the timing could not have been better to partner with Fancorps. In the near future the label plans to launch teams for several more of their artists as well, including Polysics and Nico Vega.
"It's been a great partnership," says G.I. Sanders, co-founder of Fancorps, "nobody knows online promotion like the guys at MySpace Records. MySpace is so instrumental for bands and labels, there's no doubt it is an amazingly effective tool, however when used along with a Fancorps team it can take an artists' relationship and communication with the fans to an even higher level. It's the age old theory of "if I tell two people and they tell two people etc ..., suddenly I have an army of people helping promote my message or product." A band may only have 10,000 friends on MySpace, but their 200 street teamers might collectively have a million. Fancorps helps you empower those 200 teamers to spread the word effectively, and have fun doing it."
Fancorps will assist MySpace Records in turning artists like Sherwood and Kate Voegele into household names. Sherwood will soon begin a Fall tour with The Academy Is ... in support of their new album, "A Different Light". While Kate Voegele is fresh off a supporting roll with The Click Five and will tour this Fall with Matt Nathanson behind her latest release, "Don't Look Away."
"Fancorps.com is the street team app for the Web 2.0 world," says Tom Mahoney, Digital Marketing Manager for MySpace Records, "it's a fully-functional web platform with which emerging and established artists can use to attract and manage fans who want the world to know about their favorite music acts."
Visit http://www.myspace.com/myspacerecords for more information on the label and their current and upcoming releases. Check out http://www.fancorps.com to learn more about street team management.
# # #