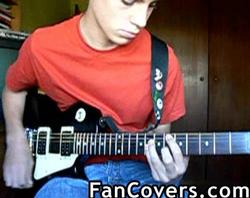 That includes the design, programming and testing. We're proud of the site we've created.
Toronto, ON (PRWEB) September 5, 2007
The site, founded by two 19 year old university students, is the latest and hottest evolution in the field of online video sharing, FanCovers.com.
It's an online community of amateur musicians, sharing videos of themselves playing their favourite songs by their favourite artists, all with their very own instruments and voices. Other users can then rate their performance, comment on the video, and view other related cover videos. "The idea was just to get these amateur artists, people who may have never played in front of an audience before, to share their music so others can appreciate it," says Cory Liu, one of the founders.
The site also allows users to create their own profiles, including details such as what instruments they play, their favorite artists, interests, and information about themselves. There is also a subscribe feature that lets users receive automatic updates on their favorite amateur musicians, for example when a new cover video is released. It even has a database of artists and songs to help users correctly credit the original artists when creating their video. Since launching on August 8th, the site has grown quickly as users have flocked to add videos and use new features, like the notes and tabs attachments and player points. There's even a new "Center Stage" feature, where users can redeem their player points for front page exposure.
"We are a two man team that built the site from scratch. It took us about four weeks from concept to launch," remarks Andy Hin, the other co-founder. "That includes the design, programming and testing. We're proud of the site we've created." FanCovers.com is openly inviting all artists to join their site and share their work.
The two, who co-founded the FanCovers.com project among many others, are the founders of Andory Internet Ventures Inc., their corporate identity. They've worked together on numerous projects in the past, saying they've grossed sizeable incomes from their web ventures.
About Andory Internet Ventures Inc.:
Andory Internet Ventures Inc. is the partnership of Andy Hin and Cory Liu. It is primarily involved in web venture development. For additional information about FanCovers.com, feel free to contact Cory or Andy at Andory.com
Cory Liu (519-902-2679)t
Andy Hin (647-866-9039)
###