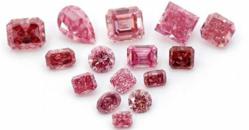 Pink diamonds are very rare and with the expected depletion of the Argyle Mine in the next ten years their future rarity is assured
Tel Aviv, Israel (PRWEB) November 14, 2011
For over 32 years, Leibish & Co. have been at the forefront of the fancy color diamond trade. As purveyors of the finest stones and with an unparalleled reputation for integrity and service, their invitation to bid at the renowned Rio Tinto Argyle Diamonds Tender year after year, is further confirmation of their reputation in the upper echelon of fancy color diamond dealers.
Bids were placed and when the tender closed, Leibish & Co. was subsequently notified that it was the successful bidder for six of the 55 diamonds offered at this year's tender. This follows their success in the 2010 tender where Leibish & Co. also successfully tendered for six diamonds.
Leibish & Co. won the following diamonds in this year's tender:
Lot 6 - 1.71-carat, Fancy Intense Purplish Pink, Radiant
Lot 8 - 0.42-carat, Fancy Deep Pink, Square Emerald
Lot 11 - 0.36-carat, Fancy Vivid Pink, Square Emerald
Lot 21 - 0.65-carat, Fancy Intense Purplish Pink, Emerald
Lot 36 - 0.66-carat, Fancy Vivid Pink, Oval
Lot 50 - 0.80-carat, Fancy Red, Oval
Some Background to the Tender
The tender is an invitation-only event where the crème de la crème of diamonds from the Argyle Mine in Western Australia, the source of over 90% of the world's pink diamonds, are offered for sale. The stones are collected during the year preceding the tender. They are then cut, polished and graded by two independent grading laboratories. For every one million carats of rough diamonds produced from the mine, only one polished carat is offered for sale at the tender.
Prospective buyers place sealed bids, and assuming the reserve price is reached at the tender deadline, the winning bidder is notified of their success.
Although the diamonds usually exceed .5-carat in size, there has been a steady increase in sub .5-carat stones in the tender, due to the increased rarity of such high quality stones. This year there were six diamonds weighing less than .5-carat in comparison to two last year and one in previous years. Similarly, this year's tender contained twenty stones with an I1 clarity grade, a steady increase from the eighteen with an I1 or less in 2010, fourteen with an I1 or less in 2009 and only eight stones with an I1 clarity grade tendered in 2001.
Leibish & Co. was thrilled with the overall result; however, the highlight was the privilege of acquiring a stunning and extremely rare Fancy Red diamond – the only red diamond amongst the pink stones in this year's tender.
To celebrate their achievement in the tender and welcome these new Argyle diamonds, Leibish & Co. are holding their inaugural Pink Diamond Festival. The Pink Diamond Festival is Leibish & Co.'s way of thanking their clients for supporting them in achieving their prominence in the world of fancy color diamonds. The festival will extend 10% off any pink diamond custom jewelry setting, free diamond sorting kits with any pink diamond purchase, 5% voucher of the current item price towards your next purchase, and one free year of insurance on all customized pink jewelry pieces purchased .
Pink diamonds are very rare and with the expected depletion of the Argyle Mine in the next ten years their future rarity is assured. Leibish & Co. holds one of the largest online inventories, if not the largest inventory, of pink diamonds in the world. The latest six additions to the Leibish & Co. family of diamonds only enhance their product offering, making Leibish & Co. a must when searching for that special stone.
About Leibish & Co.: Established in 1979, Leibish & Co. is a family business based in the diamond capital of Tel Aviv, Israel. As a pioneer in the fancy color diamond industry, Leibish & Co. were among the first online retailers of fancy color diamonds further facilitating access to this burgeoning market. Their website, fancydiamonds.net, has further enhanced Leibish & Co.'s reputation for integrity and service.
# # #