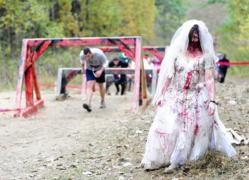 The Zombie Evacuation Race is one of the best events we've heard of in a long time.
Leicester (PRWEB UK) 1 October 2012
Fancy Dress Outfitters, UK retailers of Halloween costumes and accessories, today announced their support of the UK event, Zombie Evacuation Race.
The Zombie Evacuation Race is a unique obstacle course in which runners must progress through the obstacles along the 5K track whilst being pursued by volunteers dressed as zombies. Each runner will have three 'life flags', representing how much life they have left before they become one of the 'infected'. The dressed up volunteers must successfully take all of these 'life flags' from as many runners as possible.
The idea for this event came from the mind of Jon Ford and his partner. As reported by thenationalstudent.com, an online news publication, the idea of tough events such as the 'Spartan Race' was too intense for the couple, and they wanted to create something for entry level runners to participate in.
One of the best parts about the Zombie Evacuation Race is that the obstacles along the short route are based on situations seen in zombie films throughout the years. This means that zombie fans can live out their dream of surviving in a zombie apocalypse against the odds.
At its current level the zombie volunteers outnumber the living runners at a ratio of 2:1. A spokesperson for Fancy Dress Outfitters commented, "The Zombie Evacuation Race is one of the best events we've heard of in a long time. It's also taking place really close to Halloween which is a great excuse for people to buy their Halloween costume now and be a zombie for the race as well to get the most use out of it."
This year is the first year that the event will take place, however the organisers have plans to do it all again next year. Already 1500 people have signed up for the race with more that can sign up on the day, which will undoubtedly make this one of the largest zombie related events in the world.
Fancy Dress Outfitters retail fancy dress costumes and cheap Halloween costumes to customers online. They have a wide range of products, including zombie costumes that are perfect for both Halloween and a day out pretending to be a zombie after some fresh-meat.