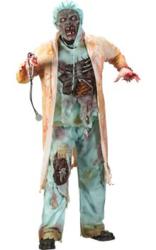 Zombies have been used as the main villain in movies and television programs for decades.
Leicester (PRWEB UK) 30 September 2012
FancyDressShack.co.uk, online retailer of fancy dress costumes, today announced their preparation for a high demand of zombie costumes this year due to the increasing popularity they have experienced over recent years.
The popularity of zombies has been rising for the last 10 years alongside the releases of the Resident Evil movies since they began in 2002. Since then there have been four more releases in the series with the fifth due to be released imminently. There have also been many more zombie related releases in the last 10 years that have attributed to the popularity of zombies including; The Walking Dead comic book and television series, and the video games Dead Rising 2 and Resident Evil 5.
The staff of FancyDressShack.co.uk were interviewed and gave their individual reasons for why they thought that there will be a high demand for zombie costumes this year at Halloween.
Customer Service Manager Kelly Woods commented, "I think that the new Resident Evil film is the biggest zombie influence on Halloween this year. It's a really popular series with people of all ages and has its roots set in the classic zombie story of a town infested with the living dead, what's not to get excited about?"
The latest Resident Evil film will take main character Alice (Mila Jovovich) into the depths of the evil Umbrella Corporation's secret facility. Here she will continue to fight for humanity and attempt to stop the spread of the Earth consuming T-Virus.
Head Of Marketing, Clare Brace added, "Zombies have been used as the main villain in movies and television programs for decades. 2012 has seen a rise in popularity. I think that zombies are the essence of Halloween, what says the dead coming back to life and preying on the living more than a zombie?"
A popular event that is spreading to cities around the world is the Zombie Walk. At these events people turn up in their thousands dressed as the living dead to shamble through the streets together. Often Zombie Walks are inspired by the lack of a Zombie Apocalypse Emergency Plan in many cities, as the Leicester Zombie Walk was.
Sales Assistant Jack Munton commented, "I think that this year people want to be more creative with their Halloween costumes, which is why they're going for zombie costumes. What we're seeing a lot of people do is buy a normal costume, like a nurse's outfit, but also some fake blood and guts to customise it with. This is great because it means people get to be creative and produce some really original and disgusting outfits to send us pictures of while they've been out."
October is only a month after university students start or return to their courses. This means that there are many creative minds going out to parties each night and wanting to make them as individual and fun as possible. Students will have a lot to spend on their Halloween costumes, decorations and sweets and will want to in order to create a memorable night. Many people are likely to have their costume ideas influenced by celebrities like Lady Ga-Ga, who is famously known for wearing a meat dress, and arriving at an awards ceremony in an egg.
Customer Service Assistant Jamie Moorcroft-Sharp summarised his thoughts, "I think that a major influence on the theme of Halloween is the video games released around the same time. Resident Evil 6 comes out in October and loads of people will be buying it and playing it for the entire month. Zombies are a huge influence in the game and to me that means that more people will want to be a zombie for Halloween."
The Resident Evil franchise originally began with a video game for the Sony PlayStation in 1996. Since then the series has gone from strength to strength with numerous video games over several consoles, not to mention the films, books and action figures that are also available.
With so many views on same influence for this year's major Halloween theme it's easy to see why FancyDressShack.co.uk is preparing for a high demand in zombie costumes over the next month.
FancyDressShack.co.uk is an online retailer of fancy dress costumes. They have a wide range of cheap Halloween costumes available for their customers this year and numerous zombie costumes in order to cope with the surge of interest in the undead this October.