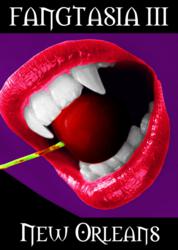 With Fangtasia III, we're reminding people all over the world that, even during the summer, New Orleans never truly sleeps. It isn't just a city. It's a portal to another place.
--Kurt Amacker, Lead Producer
New Orleans, LA (PRWEB) June 13, 2013
New Orleans' premiere summer vampire event returns for its third consecutive year on July 20th, featuring DJ sets by multi-platinum artist Jyrki 69 of The 69 Eyes. "When I'm in town, there's always a party," Jyrki says, "at Fangtasia III, It's public! Come on—New Orleans is all about partying and staying up all night. Fangtasia III goes until the dawn!"
This year, Fangtasia moves from its dark awakening in 2011 at a nightclub on Decatur Street to The Howlin' Wolf in New Orleans' fabled Warehouse District—a massive concert venue just outside of the French Quarter.
Fangtasia III blasted-off this month with a packed performance featuring Gothic troubadour Aurelio Voltaire and industrial band Shrapnihil . Next, on Saturday, July 20th, Los Angeles rock legends Christian Death join DJ Jyrki 69 for the 2013 main event and an unforgettable evening of vampiric mayhem. Christian Death, crowned "one of the top 10 Goth bands of all time" by Rolling Stone, helped cement the Gothic sound that would later influence The 69 Eyes. Singer Valor Kand states, "If you're like me, you love New Orleans and have a fascination with the dead—actually I mean the undead."
Once again, Fangtasia is organized by Seraphemera Books comic author Kurt Amacker (Dead Souls, Tad Caldwell and the Monster Kid), who says, "I was born in New Orleans, and there's something about this city that attracts the mysterious and other-worldly. I've felt it all my life. With Fangtasia III, we're reminding people all over the world that, even during the summer, New Orleans never truly sleeps. It isn't just a city. It's a portal to another place."
Joining Jyrki and Christian Death will be a cast of DJs from the top goth and industrial club nights in New Orleans and Baton Rouge. Attrition's DJ Sneauxball will spin the best in Goth, dark dance, and industrial alongside DJ Lucifera of the New Orleans Witches' Ball and DJ LostTwistedSoul of The Chamber. Burlesque performances along with other exotic entertainment will be conjured throughout the evening.
VIP attendees will be offered an exciting opportunity before doors open. A limited number of ticket holders can join Jyrki 69 on a special walk through the shadowy history of New Orleans with The French Quarter Phantoms and the notorious Lord Chaz Howell before Fangtasia begins. All VIP attendees will be presented with a bottle of wine signed by Jyrki 69, and will be given all access to Fangtasia at The Howlin' Wolf throughout the night. VIP spaces are very limited.
"Looking forward, Fangtasia IV, V and beyond will captivate not only audiences, but also major vendors, retailers and sponsors as this event emerges as the South by Southwest of the global vampire culture," says Marc Juneau, owner of NOLAGraphics, who designed and launched the Fangtasia website.
Randal Tewksbury, Executive Producer with CS Productions which is working to rocket the annual event to new heights, went on to shed light on Fangtasia's expansion to a week-long festival, "We are working closely with top international event professionals to create the next New Orleans based, globally renowned annual event. Fangtasia will eventually transform a portion of the summer commerce season of New Orleans into an international SXSW-like festival with not only club nights, but also conferences, fashion shows, film & TV screenings, trade shows, celebrity events and a series of stunning VIP parties."
Lead Producer Kurt Amacker reiterated, "Fangtasia III is just a glimpse of what's coming next year and beyond. This is everything that Jyrki 69 and I have worked towards since he approached me in 2011. And now, we have an amazing global team with CS Productions, NOLAGraphics, and many others in league. I couldn't have a better team of creative producers, performers and sponsors."
Fangtasia is once again sponsored by Seraphemera Books, Skully'z Recordz, Three Lords Tours, French Quarter Phantoms, Attrition, The Chamber, Dark Awakenings. Sigh Co. Graphics, Nuclear Blast Records. This year, Fangtasia is proud to welcome the participation of CS Productions, NOLA Graphics, Quarter Rat Monthly and others.
Tickets and more information are available at the Fangtasia website. Doors open at 8:00 p.m. on Saturday, July 20th at the Howlin' Wolf, at 907 South Peters in New Orleans.
Media Inquiries:
Tara Juneau
info(at)FangtasiaEvent(dot)com