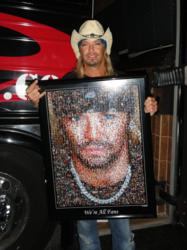 Northfield, OH (PRWEB) September 28, 2012
Just a year ago, few people had heard of Fan Mosaics. Today, the company is growing so fast that it got over 1,000 "likes" on its Facebook page in one day.
What's its secret? Simply give fans what they want.
"We take something or someone fans already love—a professional athlete, a singer, an actor, any sort of famous entertainer—and give fans the chance to interact with them in a unique and lasting way," explains Rob Hixenbaugh, Fan Mosaics' director of fan & brand development. "At no cost to them, fans can be part of an experience that ties them to their hero forever."
A Fan Mosaic is a photo mosaic built entirely of fan-submitted photos. Each officially licensed mosaic features an image of the star or stars that is re-created using fans' own photos as the building blocks. Fan Mosaics also turns the mosaic into high-quality commemorative prints that fans can purchase, whether they participated in its creation or not.
One of the most recent Fan Mosaics was commissioned as part of the 35th anniversary celebration of the life and legacy of Elvis Presley. Approximately 10,000 fans from over 30 countries submitted pictures for the mosaic, which was turned into a mural that now hangs in Graceland and was used as the cover art for Sony's new Elvis CD, "I Am an Elvis Fan: A Collection of Elvis Songs Chosen by the Fans." The mosaic was such a success that Fan Mosaics is now creating one for the 40th anniversary of Elvis' "Aloha from Hawaii" concert.
Other recent Fan Mosaics featured Marilyn Monroe, the original Star Trek TV series, Star Trek: The Next Generation, Fresno State, KISS and WWE superstars John Cena and The Rock.
To learn more about Fan Mosaics, including its current and upcoming projects, visit http://www.fanmosaics.com. Follow Fan Mosaics on Facebook at http://www.facebook.com/fanmosaics or on Twitter at http://www.twitter.com/fanmosaics.