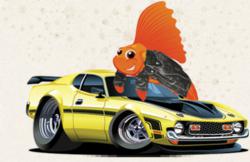 Fannie has played such a crucial role in the housing market, and it would be wonderful if this was a sign of the tides finally changing, for them and for the housing market as a whole.
New York, NY (PRWEB) May 10, 2012
RoadFish.com men's lifestyle and finance magazine today weighed in on the recent news that Fannie Mae just earned its first net profit since 2008. The mortgage giant has been receiving federal funding for the past five years, and has not seen a net profit in over four years, although reported being able to pay the government a significant amount this past quarter.
Marcy Gordon of the Associated Press yesterday reported that the Federal National Mortgage Association, Fannie Mae, announced that it had made a net profit for the first three months of 2012. Further, the mortgage giant reported that it would not be seeking federal aid for this quarter. This is the first time since Fannie Mae was overtaken by the federal government in 2008 that the company has seen a net income gain. Comparing the January-March 2012 quarter to the same time period in 2011, Fannie Mae made the equivalent of $2.7 billion this year as opposed to being out $6.5 billion last year. Fannie even made enough to pay the Treasury Department $2.8 billion. Gordon reports that the cause for such a drastic improvement in income as reasoned by Fannie Mae is though to be due to slower home price declines as well as less and less mortgages in jeopardy.
Jim Puzzanghera of the Los Angeles Times wrote that the massive jump in income for the mortgage giant may be a sign of the real estate market having hit rock bottom. Puzzanghera's article included a quote made by Fannie Mae's chief financial officer, Susan McFarland, who stated, "It's always hard to call a turn until everything is in the rear-view mirror. It's certainly a positive indication that if we haven't turned the corner, we're pretty darn close to turning the corner because you now can see the earnings potential of the company and our ability to repay the taxpayer."
RoadFish.com's Senior staff writer is quoted as saying, "It's refreshing to see Fannie Mae actually coming out on top with income. It's been a rough handful of years for them, and in so being for the federal government and taxpayers as well, who have had to bail them out. Fannie has played such a crucial role in the housing market, and it would be wonderful if this was a sign of the tides finally changing, for them and for the housing market as a whole."
According to the above-mentioned Associated Press article, the first two months of 2012 boasted the best winter months for sales of previously occupied houses since 2007. Though the prices of homes keep plummeting, apparently there have been reports of smaller annual declines by the majority of US cities than we've seen lately. And as a sign of good things to come, the article goes on to report that builders are planning on constructing more homes this year than they have in the last three and a half years.
In the above-mentioned Los Angeles Times article, independent banking consultant Bert Ely warns not to become too hopeful, too soon. Ely is quoted as saying regarding the recent spike in Fannie Mae's profit, "We're seeing some hopeful signs, but these are like flowers that blossom in an early spring and then you get a freeze and they all wilt. We need to see several more quarters of data before we can read a trend into this."
RoadFish.com believes that there could not be a better time for this huge jump in profit for Fannie Mae. RoadFish.com's Senior staff writer is quoted saying, "Taxpayer dollars have long been going towards bailing out Fannie and Freddie. I'm not saying it's not worth it, because these companies have been truly instrumental during the housing crisis. But the taxpayers are trying to save money, they're trying to rebuild their credit score s, and they're striving to see the light at the end of the tunnel. One can only hope that this is a sign that it's not far ahead."
Fannie Mae was founded in 1938 during the Great Depression as part of Franklin D. Roosevelt's New Deal. Though Fannie Mae is a government sponsored endeavor, it became a publicly traded company in 1968 and has been that way since. In 2008, during the crux of the national financial crisis, the United States federal government formulated a plan to take over Fannie and its brother company, Freddie Mac, who had been hit hard financially during the housing crisis. Currently, between Fannie Mae and Freddie Mac, the two companies own or back more than 60% of the nation's mortgages.
About RoadFish
RoadFish.com is an online men's lifestyle and finance magazine targeted toward men in their 30s and 40s that have already attained a moderate level of success in life, and are striving toward more. It goes over current events of interest to this group, such things as exciting adventures, making money, consumer interests, hot chicks and the latest sports stories as well as ways to make more and save more money. It is a publication owned by Purpose Inc.