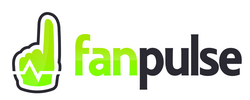 Fans can check-in to a game to tell their friends they are watching, and then immediately begin talking (or trash-talking) with their friends. Its a great way to support your favorite teams!
San Francisco, CA (PRWEB) February 5, 2010
FanPulse today launched the first version of its iPhone app, available at http://bit.ly/FanPulse. Blending the ability to follow your favorite teams and talk (or trash-talk) with your friends, FanPulse is a better way to follow the sports you love, and is available just in time for the Super Bowl this weekend.
Fans can check-in to games to chat and trash-talk with friends who are also watching – it's like being at the game together!
Can't watch a game? Get scores and breaking news sent straight to your iPhone. FanPulse covers the NBA, NFL, MLB, NHL, college basketball, college football, and the English Premier League.
"We're very excited to give sports fans a way to connect with their friends around sports," said Vishwas Prabhakara, Founder and CEO of FanPulse. "For so long, fans have been inundated with more stats, more news, more data. But no one has focused on what makes sports such a key social driver – helping fans talk to each other about the sports they love."
Upon downloading the iPhone app, fans can set up their favorite teams and find other friends that are using FanPulse via Facebook, Twitter and their iPhone address book. Fans can then "Check-in" to a game, telling all their friends they are watching, and immediately shout, or send a message, to friends who are also watching the game. Fans can also enter their Facebook and Twitter logins to publish all their check-ins and shouts.
FanPulse is available now on the app store at http://bit.ly/FanPulse. The fully functional FanPulse website will be live soon at http://FanPul.se.
Follow FanPulse on Twitter @FanPulse and on Facebook at http://Facebook.com/FanPulse.
About FanPulse
FanPulse is a new sports service that believes that sports are more fun when your friends are around. FanPulse lets you tell everyone what games you're watching, celebrate big plays, trash-talk your friends, and stay up to date on the teams, games and friends you care about. The company was founded in 2009 by Vishwas Prabhakara, Joe Pestro and Art Chang – three sports fans who want to help sports fans have fun with their friends. The founders have previously worked at ESPN, Yardbarker and Digg.
# # #