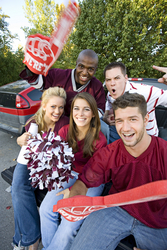 Fanzplanet, Official network for fans.
Liberal, KS (PRWEB) March 30, 2010
Fanzplanet.com, is a new social networking site completely dedicated to putting fans of all sports in the spotlight.
Featuring all teams throughout the United States—high school, college, and professional—Fanzplanet.com has instant access to scores and fan footage for all sports. Basketball, football, baseball, soccer—they're all there.
Founder Terry Davenport, explains his reasoning behind the creation of Fanzplanet.com: "I wanted an online place where fans could be in the spotlight, where fans could highlight their own teams. They can show team spirit by creating layouts of their favorite team, uploading videos and photos of pep rallies and tailgates parties, games, and talking smack to other fans."
In addition, Fanzplanet.com will put the fans in control as they will be able to support their favorite team and say what's on their mind. Giving the fans a voice in sports entertainment and connecting with other sport fans across the world. Fans can participate in online polls, blogs, forums, groups, events, online chat, and much more.
"One thing that makes Fanzplanet.com really unique," said Davenport, "is that our camera crew will travel the country covering games from the fans' viewpoint and posting them on our site. We know that fans are what really make the games, and we want to give them the attention they deserve."
At Fanzplanet.com, fans can get involved in their sports and be showcased like never before.
For more information or to join, go to http://fanzplanet.com now.
Contact:
Terry Davenport, Founder
Liberal, Kansas
Phone: 620-417-0491
Visit Fanzplanet @ http://fanzplanet.com.
# # #