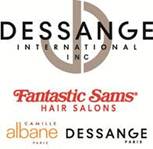 BOSTON (PRWEB) June 19, 2013
Effective June 10, 2013, Allyson Hurley King joins DESSANGE International as Chief Executive Officer taking the reins of the hair salon franchise company from long time CEO Scott Colabuono who will retire on June 30, 2013. Colabuono will remain on the Board of Directors and assist the new CEO in transition and other corporate matters.
Colabuono commented about the change: "I had been discussing my position with the board for some time and when battling cancer last year we decided to take some time and recruit the next generation leader for our company. DESSANGE International with its three brands – Fantastic Sams Hair Salons, Camille Albane Paris and DESSANGE Paris covering the complete demographic profile of salon guests with affordable, premium and luxury/spa market segments stands out in the North American market place and the board and I felt this was the right time for a change."
Colabuono sheparded the sale of Fantastic Sams from Pouschine Cook Capital Management to DESSANGE International with the transaction that closed in January, 2012.
Benjamin Dessange Chairman and CEO of DESSANGE International commented: "We thank Scott for his leadership during our transaction and making the integration of our companies as seamless as possible. He will remain on the board of directors where we value his advice and counsel. I welcome Allyson to our company and believe she is the right person with deep experience in the beauty industry to lead our USA business to the success we seek."
King joins DESSANGE International from Clarins USA Inc of New York, the USA subsidiary of Clarins Neuilly-Sur-Seine, France, a global skin care product company, since 2010 where she was Vice President Education. Prior to Clarins, she led the salon division of ULTA as Vice President of Salon Operations. She also had major positions at Color Works and Hair Cuttery of the Ratner Companies.
King is a graduate of George Mason University with a masters degree in business from Strayer University. She is also a licensed stylist and certified colorist.
King commented: "I am excited to join DESSANGE International and leading the anticipated growth of all three salon brands. My experience in the salon industry and at Clarins gives me a solid foundation to draw from in making this move to DESSANGE International. I want to thank Scott for his help in this transition."
King and her family will relocate to the Boston area from New York over the coming weeks.
DESSANGE International including Fantastic Sams Hair Salons, Camille Albane Paris and DESSANGE Paris salon brands has operations throughout Europe and 40 countries around the world. DESSANGE Paris provides customized and luxurious total body beauty with glamour, elegance and style. Camille Albane Paris provides upscale hairstyling, coloring and make-up for today's bold, contemporary woman. Fantastic Sams Hair Salons provides a high quality salon experience at affordable prices. Each brand retails a private label professional product line manufactured to the highest standards and sold exclusively in the company's salons. Franchise opportunities available in all markets, refer to company websites for more detailed information.