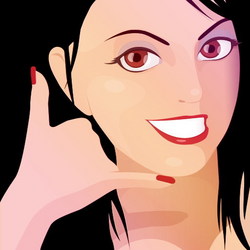 Fantasy Date delivers attractive, fun, flirtatious women
Seattle, WA (PRWEB) June 4, 2010
Today, PressOK Entertainment announces the launch of its new title, Fantasy Date. After a bumpy approval process, PressOK Entertainment launched the interactive streaming video application and has seen quick success on the App Store. It seems Fantasy Date is filling a void left on the App Store after the risqué content was taken down.
Fantasy Date delivers attractive, fun, flirtatious women who remain fully clothed – if you consider cheerleading outfits and bathing suits clothing. The objective is for the player to try and score a date (and hopefully more) with each woman. Fantasy Date leads the player through unique scenarios, each one ending with a question that determines the player's fate. Say what she wants to hear and you'll discover what else she has in store for you. Say the wrong thing though and you'll be kicked to the curb.
So, who are the women of Fantasy Date?

Scarlett, the cop and a blond bombshell with a soft spot for bad boys
Sabrina, the cheerleader who might show you some of her moves if you're lucky
Jessica, the cute IT girl who checks on your hard drive
Debbie, the brunette who likes spontaneous adventure
And six more girls available for download including Alison, Michelle, Charlotte, Tracy, Tiffany and Beth.
"Fantasy Date is fun and flirtatious. This is an app which will sharpen your dating skills to have success with the ladies in the real world," claims AppPicker.com.
"We had a lot of fun developing this game," said Vice President of Development, Alex Koloskov. "If you have a sense of humor, enjoy watching attractive women, and like casual game play, this application is for you."
Fantasy Date sells for $1.99 on the App Store and also has a free version for those who can't commit. The full version comes with four women and two packs of three women each are available for $.99.
http://itunes.com/app/fantasy-date
http://itunes.com/app/fantasy-date-free
###