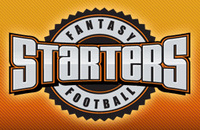 Phoenix, AZ (PRWEB) August 14, 2008
We all know this is the busy time for millions of NFL fantasy football drafts and most fans take the early rounds to focus on Running Backs. http://www.FantasyFootballStarters.com has a unique optimization algorithm that has been predicting player performance for over five (5) years and there is definitely something different about this year.
"Our Free Fantasy Football Software has been demonstrating an interesting trend since the 2004 season, which shows that taking Wide Receivers earlier in your fantasy football draft has proven to create a stronger roster," says Dana Valentine, co-founder of Fantasy Football Starters dot com. Does it have to do with the NFL league office implementing more stringent defensive contact rules? Statistics never lie and in fantasy football that is one of the most interesting facts going into this season," Valentine goes on to say.
Early in the season our fantasy football predictions are weighted heavily on stats from the previous year, as well as factoring in player and coaching movement in the off season. Couple those factors with the fact that over 25% of our members surveyed won their league making the wide receiver position an early pick in their fantasy football draft and you can see its important to pay attention. Granted scoring systems really drive the right strategy for your draft and that's one of the benefits of our fantasy football software which is the fact that it does factor in scoring systems, starting line-up requirements and number of rounds so you see the optimal personalized recommendations.
One fantasy football strategy becoming very popular is if your first pick is later than the 9th or 10th spot in your draft, you could even get better overall fantasy football value going with making both your first two picks wide receivers ala Reggie Wayne, Terrell Owens, Randy Moss or Larry Fitzgerald. Sound crazy, maybe but the stats don't lie. Results from our fantasy football mock draft software has shown consistently that is something fans are seriously considering for this 2008 NFL Fantasy Football season. .
Need more evidence of why our fantasy football software predicts an increasing trend with making wide receivers an early pick? Another interesting statistic shows on average Quarterbacks are being taken earlier as well. With over 70,000 users running our Draft Analyzer this early in the season to date analysis shows three or more Quarterback picks are made each round, starting as early as the second round
Want more information about the best strategy for your draft? Then get free access to our web based football software that provides analysis using our time proven Draft, Trade, Team and Power Line-up Analyzer. That's right we are making all our fantasy football predictions available to fans free this season, so anyone can be "in the know" all season long. Best of all its easy, just register for free at http://www.FantasyFootballStarters.com, create a roster shell by loading your scoring system, then your able to view our fantasy football draft predictions and more. After your draft, load and store your roster so you can see on demand player predictions and trade recommendations all season including through the playoff and up to the Super Bowl. Good luck this season and best of all we hope you win!
Ready-Set-Go Fantasy Sports is a new media content provider based in Phoenix, Arizona. Founded in 2004, RSGFS also delivers fantasy content via licensing agreements with its business partners, including NFL PLAYERS INC., Sprint/Nextel and others.
For more information about Ready-Set-Go Fantasy Sports, visit http://www.rsgfs.com or contact Brady Chatfield at 602-463-0129.
###