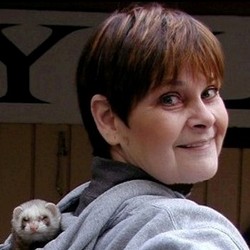 I am a very determined, self-assured woman, like Arcinaë
Port Orford, OR (PRWEB) November 1, 2007
From television's "Bionic Woman" to movie and book heroine Hermione Granger and gaming-sensation Halo3's Commander Miranda Keyes, the leading ladies of fantasy fiction are realizing a new wave of capable and strong women.
Author Jayel Gibson is joining the entertainment trend and promoting a new era of fantasy from an uncompromisingly feminine point of view with her new book, Damselflies (Synergy Books, November 2007, ISBN 978-1-933538-64-8, $14.95). The third installment of Gibson's "Ancient Mirrors Tales," Damselflies features the powerful female character Arcinaë, who utilizes her inner-strength to fight for an enchanted land, seek vengeance for wrong doings and ultimately save the line of the damselflies.
Gibson was driven to create this platform for fearless females in fantasy because of her own past frustrations with the genre, as well as from her experience with online role-play gaming. She is not alone in the female gaming phenomenon. A recent study by the Entertainment Software Association indicates that 42 percent of on-line gamers are female.
"I have been a long-time fan of science fiction, fantasy and gaming; but as a woman in a genre dominated mostly by men, I've often felt as if I were on the outside looking in," says Gibson, a former grade school teacher. "Popular fiction and culture tell women to look to a male hero for protection and for power, when it actually lies within them."
Unlike most fantasy epics, women often drive the storylines and hold positions of power in Gibson's writing. Gibson says she draws the inspiration for these powerful women from inside herself. In Damselflies, Arcinaë comes to realize she is the last of her race and the subject of ancient prophesies. In a quest to right wrongs, Arcinaë becomes a warrior and finds a love she never thought possible. Out of this love, Arcinaë is able to preserve the race of the damselflies through her daughters A'Janae and J'yorie.
"I am a very determined, self-assured woman, like Arcinaë," says Gibson on the motivations behind the character. "I tend to seek out and fight for the truth at all costs, which is not very often how we see women portrayed in literature. Though Arcinaë is gentle by nature she does not shy away from her responsibility."
Gibson currently lives in Port Orford, Ore., with her husband, a pet cockatoo and five sugar gliders--a small type of marsupial. An accomplished author, Gibson often speaks at conferences, including Wordstock and the South Coast Writers Conference. She is a recent honorable mention recipient in this year's Writer's Digest International Book Awards and will appear at the 2007 OryCon 29, Oregon's popular science fiction/fantasy convention, in Portland in November. For more information, visit Ancient Mirrors .
###