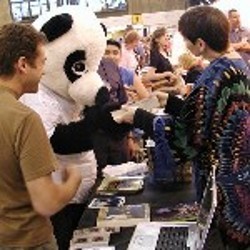 Each of us has personal demons
Port Orford, OR (PRWEB) May 7, 2008
Oregon fantasy author and video game advocate Jayel Gibson is joining the entertainment trend that promotes a new era of fantasy from an uncompromisingly feminine point of view, and it seems to be working. The first two books of her "Ancient Mirrors" series, Dragon Queen and The Wrekening, have received USA Book News '2007 Best Books' Finalist Awards, and the third book, Damselflies, reached #1 and remained on Amazon's Top 100 Celtic Mythology Bestseller List for seven weeks. Quondam (May 2008) is the 2008 National Indie Excellence fantasy and science fiction award winner.
Gibson was driven to create this platform for fearless females in her Ancient Mirrors fantasy series because of her own past frustrations with the genre, as well as from her experience with online role-play gaming. She is not alone in the female gaming phenomenon. A recent study by the Entertainment Software Association indicates that 42 percent of on-line gamers are female.
"There is no shortage of negative publicity for the video game industry," says Gibson, a former grade school teacher and supporter of gaming as an educational tool. "It's time the truth was shared by those who actually play games, study the positive effects, and understand their use as an educational tool." A two time 'Teacher of the Year' recipient in southern California's Escondido Union School District, Gibson excels at using innovative technology strategies in education.
Women drive the storylines and hold positions of power in Gibson's novels. Gibson says she draws the inspiration for these independent women from inside herself as well as other women she knows. "Each of us has personal demons," says Gibson on the motivations behind Cwen, her most popular protagonist. "It is only through the unselfish act of helping others that we can defeat them."
In addition to her novels, Gibson is the creator of the popular writers' workshop "From Brainstorm to Book and Beyond," and teaches community interest writing for Southwestern Oregon Community College. She is an expert on video gaming in education and the Celtic mythos. Her numerous non-fiction articles,include topics ranging from her experiences living and traveling with exotic pets to dating tips for chic geeks. She is also the moderator of Fealms of Fantasy magazine's online book club.
Upcoming appearances include Oregon Mensa's regional gathering in Portland, OR (May 2-4) and BookExpo America in Los Angeles (May 29-June 1). For full 2008 event schedule details, visit Tales Touched by Magick.
To schedule an interview or event with Jayel Gibson, or to request a review copy of Quondam please contact Shelby Sledge, Publicist at (512) 478-2028 ext. 227.
###