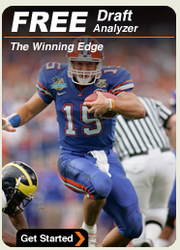 Everyone knows the Tom Bradys, Andre Johnsons and Peyton Mannings who are marquee fantasy football picks, but our members want more insider information on late round sleepers, personalized & delivered to their e-mail or mobile phone.
Scottsdale, AZ (PRWEB) April 22, 2010
Going into this week's 2010 NFL draft, football fans probably know plenty about Running Backs C.J. Spiller from Clemson (or Jahvid Best from Cal), and Wide Receiver Dez Bryant from Oklahoma State, because all these guys could be drafted in the first two rounds. But later this summer when it's fantasy draft season, will you remember if any of these guys are fantasy football sleepers and what round you should pick them up?   
 
That's why Fantasy Football Starters.com today announced plans to add fantasy football draft software SMART Player Alerts during the 2010 NFL Fantasy Football Draft Season. These personalized alerts will provide Power Player members with weekly fantasy football draft sleepers, players on the rise and/or players to avoid because of injuries or being cut.
"Everyone knows the Tom Bradys, Andre Johnsons and Peyton Mannings who are marquee fantasy football picks, but our members want more insider information on late round sleepers, and having these personalized & delivered to your e-mail or mobile phone will be extremely popular during the NFL fantasy draft season," says Russ Bliss, a founding partner and the company's NFL Fantasy Football Analyst. "Guys want an edge not only during the season but even early during most NFL Fantasy Drafts in the summer as they look for great sleepers like last season's Miles Austin of the Dallas Cowboys."
 
The alerts are the perfect complement to the site's fantasy football draft analyzer, which features both value based draft results & personalized tier rankings. Members simply load their scoring system and starting lineup requirements for the most optimal recommended fantasy football picks. Confidence factors and player stat predictions are provided for every player, for each weekly match-up. During the Fantasy Football Draft season player updates are made daily to ensure accuracy.
 
With the Fantasy Sports Trade Association estimating more than 20 million NFL fantasy football fans participating in some form of fantasy football, the companies that provide premium content, analyzers and on-demand services to these consumers need to stay ahead of their competition. "That's why providing accurate, insightful player predictions is so important to us," says Jeff Coruccini, President/CEO. "Each year we survey our membership base asking what do they want to see us provide the following year and these alerts were a high priority."
 
Free content and offer to get an early start on 2010 fantasy football drafts! Want information about the best fantasy football draft strategy for the upcoming NFL Fantasy draft? Fantasy player can check out one of the game's most popular fantasy football draft tip sheets. As part of the spirit of the upcoming 2010 NFL draft and for a limited time, new users can register for free fantasy football draft analysis through Fantasy Football Starters' Draft analyzer, where players can see early season predictions.
 
About Fantasy Football Starters
Ready-Set-Go Fantasy Sports is a new media content provider based in Phoenix, Arizona. Founded in 2004, RSGFS also delivers fantasy content via licensing agreements with its business partners, including NFL PLAYERS INC., Sprint/Nextel and others.
For more information about Ready-Set-Go Fantasy Sports, visit http://www.rsgfs.com or contact Brady Chatfield at 602-463-0129.
###