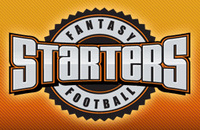 I could not be more pleased that Bill has joined our legions of fans, who already know how Fantasy Football Starters has the tools and tips to help them win their fantasy football championship
Phoenix, AZ (PRWEB) September 1, 2009
Fantasy Football Starters.com announced today it has surpassed 100,000 registered users of its free fantasy football tools. The website -- http://www.fantasyfootballstarters.com -- offers Power Analyzer products and enhanced statistical data that helps users determine the best fantasy football projections based on individual scoring systems.
While 2009 fantasy football fans are beginning to wrap their NFL fantasy drafts in preparation for the opening weekend of the season, one lucky guy -- out of an estimated 20 million fans -- is going to enjoy a premium fantasy football software service free for a lifetime.
The lucky "Member No. 100,000" -- Bill Vollmer. of Tyler, MN -- was surprised to learn he will receive a lifetime Power Player Package Membership, good for the entire 2009-10 fantasy football season and beyond. "I am a commissioner of a league and wanted an edge this season, so that's why I signed up for Fantasy Football Starters.com's free Draft Analyzer," says Vollmer, an avid Minnesota Vikings fan. Vollmer has played fantasy football for more than 20 years was excited about winning and becoming the site's newest member.
That means he'll be able to take advantage of all Power Player benefits, along with the Power Line-Up Analyzer, Draft Analyzer, Team Analyzer and Trade Analyzer. Each tool can be customized for individual league rules and scoring systems. The industry-standard fantasy football projections software includes:

Personalized Weekly Fantasy Football Projections & Power Rankings: personalized for each fantasy football roster, including NFL player stat predictions, updated 24/7.
SMART Alerts: custom player alerts sent twice weekly on sleepers to draft, in season "waiver wire wonders" to pick-up or avoid for those game time decisions.
Mobile Line-up Analyzer: on-demand predictions from your mobile phone on any of your fantasy football rosters, anytime/anywhere.
*NFL Game Predictions: weekly game predictions on each and every NFL game throughout the entire NFL season.
"I could not be more pleased that Bill has joined our legions of fans, who already know how Fantasy Football Starters has the tools and tips to help them win their fantasy football championship," says Jeff Coruccini, the company's President and CEO. "Guys like Bill expect quality services and we pride ourselves in doing just that for each and every customer. Therefore, we're delighted to give him a complimentary Power Player membership to the best free fantasy football software and community on the planet!"
As the 2009 NFL Fantasy Football Season begins, it is clear that now more than ever fans are looking for quality, last-minute analysis and up-to-date player stat/performance insight, so they can be highly competitive in fantasy football. Fantasy Football Starters.com will continue to increase the type of free and premium content it provides year round.
The popular fantasy football projections website also has plans to roll out additional new products and features, promising even more NFL fantasy fun and challenge leading up to the start of the 2009 NFL season.
Fantasy Football Starters is a premium online fantasy football site owned and operated by Ready-Set-Go Fantasy Sports (RSGFS), a new media digital sports content provider based in Phoenix, Arizona. Founded in 2004, RSGFS has also delivered premium fantasy content via licensing agreements with business partners including NFL PLAYERS INC., Sprint/Nextel and others.
###