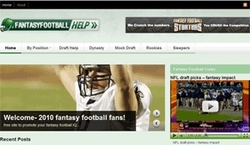 We've been in the fantasy help business for so long because we're all fantasy players ourselves
Phoenix, Arizona (PRWEB) June 24, 2010
Ready-Set-Go Fantasy Sports, LLC, -- the parent company of Fantasy Football Starters.com -- recently launched http://www.fantasyfootballhelp.com, a new community for fantasy players to post blogs and fantasy football advice to one another, share insights and predictions, and simultaneously increase their fantasy knowledge -- and their fantasy network.
If you're a fantasy football fan, Fantasy Football Help is the newest place to get advice on your upcoming fantasy draft, whether you need help by position, or want to get the latest opinions on rookies or sleepers. The site also categories articles by position, so you can quickly find articles on quarterbacks, running backs, wide receivers, kickers and defenses.
"We've been in the fantasy help business for so long because we're all fantasy players ourselves," said Jeff Coruccini, CEO of RSGFS. "We know players are always looking for great content, so they can have a leg up on the competition their fantasy leagues. Our goal for this site is the same as when we launch a new fantasy football draft software product that helps players prepare for the fantasy leagues, as well as a good way to practice through mock drafts: we want to help you win."
If you're a fantasy writer, Fantasy Football Help presents an ideal spot for your fantasy football blog. Do you like to write about dynasty leagues? Think you know the perfect fantasy draft strategy or just want to share some info from your fantasy football mock drafts? Fantasy Football Help will help you get started, and can deliver an instant audience by featuring your articles in "push" email campaigns to more than 100,000 registered users of RSGFS products.
"We want to actively promote bloggers so they can grow their readership base with Fantasy Football Help," says Coruccini. "Partnering with us will give writers a huge marketing boost and attract more readers to your existing website. We know what it's like to have just launched a small fantasy venture, trying to compete for visitors with the giant sites like ESPN and Yahoo! Sports."
Coruccini says RSGFS is always looking for ways to help the football community, such as when the company launched its weekly lineup challenge, a free contest that benefited Play It Smart, an NFL-sponsored charity that teams student-athletes with an academic coach to strengthen classroom skills and build leadership qualities.
Those interested in writing for Fantasy Football Help should email jeff@rsgfs.com.
About RSGFS
Ready-Set-Go Fantasy Sports (RSGFS), is a new media digital sports content provider based in Phoenix, Arizona. Founded in 2004, RSGFS is the parent company of Fantasy Football Starters, which provides fantasy football software, including its industry standard suite of Draft, Lineup, Trade and Team Analyzer, custom player alerts, and more. RSGFS has also delivered premium fantasy content via licensing agreements with business partners including NFL PLAYERS INC., Sprint, AOL Sports, and others.
###