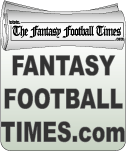 Fantasy football has become a very important way for those stationed overseas to keep in touch with their friends and family back home
(PRWEB) August 08, 2007
Gloucester, MA (PRWEB) August 8, 2007 -- Little did Fantasy Football Times.com founder and publisher, Greg Bebezas, know during his college days while studying Architecture that he'd someday be running a fantasy football company that would be able to help build the same type of homes he was designing.
His company, which has been named an industry award finalist as a top fantasy football content provider for the past two years, has announced that it will be donating a portion of its 2007 sales to Homes For Our Troops, a non-profit organization building homes to help severely injured US Servicemen and Women and their families.
Bebezas has seen the dedication and enthusiasm military personnel have had towards the fantasy football industry through the support they've given his company over the years. To him, they have become an important group to embrace and one of the reasons why the market has swelled to an all-time high of 19 million, according to the latest Fantasy Sports Trade Association demographic study.
"Fantasy football has become a very important way for those stationed overseas to keep in touch with their friends and family back home," said Bebezas.
"We're extremely fortunate to be doing what we're doing, and the time is right to give back to those that have put themselves in the line of fire. Homes For Our Troops is an excellent organization that is doing some great things for people who need a hand to put their lives back together."
Awarded the Seal of Excellence by Independent Charities of America, Homes For Our Troops has received numerous contributions from donors in the sports and recreation arena, such as PGA Pro Phil Mickelson and Birdies for the Brave, MLB pitcher Bronson Arroyo, and Harley Davidson. All of which made the organization very appealing to the Fantasy Football Times.com.
Miliary.com Promotion - Free 2007 Draft Kit
The Fantasy Football Times.com is also running an exclusive promotion through Miliary.com, offering free 2007 Draft Kits to government employees and people serving in the armed forces, including veterans. For those who qualify, you can obtain the promotional code by opening an account with Military.com. For more information or to create an account, go to the following links:
*Military.com Fantasy Football Draft Kit Coupon
*Sign-up at the Fantasy Football Times
About the Fantasy Football Times.com, LLC
The Fantasy Football Times.com is an expert Fantasy Football scouting service that provides news, information, and in-depth analysis on hundreds of NFL players throughout the year. Fantasy owners purchase the website's high-quality Draft Kit and access news from around the web via the company's RSS technology to help them draft and manage their teams better with the goal of competing to win the leagues that they play in. The Fantasy Players Network affiliate also provides content to other sports related businesses, and contributes to several media outlets.
Named a 2006 industry award finalist for 'Best Site Update' and 'Best fantasy football Draft Kit' for the second year in a row by the Fantasy Sports Trade Association (FSTA), the company is one of the fastest growing web and wireless content providers in the Fantasy Sports Industry.
Powered by: Olympic Technology Consulting Services, LLC
# # #