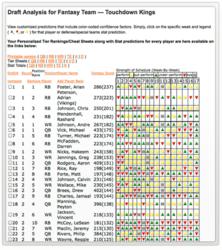 Now the world will witness the most active two weeks of free agency in the history of professional sports.
Phoenix, Arizona (PRWEB) July 27, 2011
After a four-month lockout, National Football League (NFL) owners and players have come to a definitive collective bargaining agreement. Fantasy Football Starters announced today it has released updated fantasy football projections, including its award-winning fantasy Draft Analyzer. The tool helps users create personalized fantasy cheat sheets for 2011 based on their particular league and scoring system rules using data that is updated in real time.
"Fantasy football is back for 2011!" says Jeff Coruccini, CEO of Fantasy Football Starters. "Now the world will witness the most active two weeks of free agency in the history of professional sports. Are you ready for the massive amount of player movement that's going to come down on the NFL like an avalanche? Our software is."
The Fantasy Football Starters Power Analyzer uses individual NFL players' and teams' past performance -- as well as forward-looking statistics such as run-to-pass ratios -- along with other data gleaned from actual NFL games to calculate predictions for each and every player. Individual player values can then be used to create customized fantasy football cheat sheets for each position.
"Whether your preferred fantasy football cheat sheet is based on Tiering or the Value Based Draft system, our Power Analyzer tools are vastly superior to other fantasy advice magazines and websites," says Russ Bliss, the company's NFL analyst. "Most companies pushing fantasy football projections are going to have an incredibly difficult time in 2011 because they can't predict where individual NFL players are going to end up," says Bliss, who is also a nationally syndicated fantasy football radio show host and author.
The Power Analyzer products not only rely on a player's individual talents and stat performance, but the algorithm adjusts its predictions based on the player's teammates, the team's scheduled match-ups, and the offensive system employed by the team.
"Our staff members will be working around the clock to keep up with all the player movement, ensuring our Draft, Trade, Team and Lineup Analyzers are updated 24/7," says Coruccini. "We're so confident that our predictions will help you win, our software comes with a 100 percent money-back guarantee."
New for Draft Analyzer users in 2011 is the ability to not only view player rankings, but also total predicted performance statistics for each player. In addition, the site is debuting a "player card" for every NFL player showing his predicted stats for every week of the season, plus a "projections graph" so members can easily see his strongest/weakest matchups by week.
FFS' suite of Power Analyzer products also includes:

Weekly Fantasy Football Projections: customized for each fantasy football roster, including NFL player stat predictions, updated 24/7.
SMART Alerts: Personalized player email/text alerts on sleepers to draft, players to pick-up (or avoid) starting in season, due to last-minute game time decisions.
Mobile Line-up Analyzer: On-demand predictions from customers' mobile phones on any of their fantasy football rosters, anytime/anywhere.
NFL Game Predictions: Weekly game predictions on each and every NFL game throughout the entire NFL season.
About Fantasy Football Starters
Fantasy Football Starters is a premium online fantasy football site owned and operated by Ready-Set-Go Fantasy Sports (RSGFS), a new media digital sports content provider based in Phoenix, Arizona. Founded in 2004, RSGFS has also delivered premium fantasy content via licensing agreements with business partners including NFL PLAYERS INC., Sprint, AOL Sports, and others.
# # #