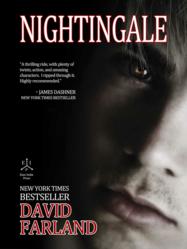 In all ways, Nightingale is engineered to be a modern classic fantasy series for young adults, perhaps even advancing the way we choose to e-read. But that wasn't enough for Farland and East India Press...
St. George, UT (PRWEB) November 30, 2011
NIGHTINGALE launches New York Times bestselling author David Farland's first contemporary fantasy series for Young Adults. With over fifty published novels, including some from the Star Wars and the Mummy franchises as well as his best selling RUNELORDS series, Mr. Farland says, "I wrote NIGHTINGALE for anyone ages twelve and above, and I also stretched for a lifelong goal to write a book that will still be read and loved fifty years from now. To do that, I strove to write a fantastic story and to publish it superbly in every medium, including one that is just arriving."
Mr. Farland's new classic tells the story of a young man, Bron, abandoned at birth, and raised in foster care. He's kicked out of one home after another for being "strange." Finally, at age 16, Bron goes to live with a woman named Olivia who recognizes instantly that he's special. He's what she calls a "Nightingale," a creature not quite human.
Suddenly epic forces combine to claim Bron, and rip him away from the only home, family, and girl that he has ever cared about. Bron must risk his life—and the lives of everyone he knows—in order to uncover the mystery of his birth, and answer the questions, "Who am I?" "What am I?" It's the kind of fantasy series that will enthrall Young Adults and adults alike.
Bron's gripping story is enjoyed from his viewpoint as well as those of his foster mother and school teacher Olivia, his girlfriend, and even the arch villain. The novel is a classic hero's journey in today's world, set in a small town with a very special charter high school of the arts, filled with extraordinary people, old and young.
David Farland researched a picturesque place in America and paints it in ways that only someone who has lived there and experienced it can feel. Colored canyons, stone pillars towering like chessmen, local Native American legends, a school any kid would die for, even the cows are special. David Farland says, "So many people live their lives completely in the city, I wanted to take people to a real place in America's backyard that they never knew existed." It is the perfect alternative for a contemporary fantasy series for Young Adults, believable, real, but so alien to what youth experience today that it could be a fantasy world.
Guarding against pretentiousness, Farland lets slip his mastery of the English language. He speaks commonly, the pages whiz by, it reads so fast, yet somehow the reader knows they are in the hands of a master wordsmith. Occasionally, Farland lets loose his eloquence to emblazon a sight upon the reader's mind or to allow readers to discover a new word that is always spot on.
Farland became a partner in his own new publishing company, East India Press, so he could exercise some control over the quality of the hardcover novel, which is now available on the book's website at http://www.nightingalenovel.com and will be released in stores in March, 2012. The hardcover is of luxurious quality. Even the jacket cover was painstakingly labored over.
"In every medium," Farland says, "the story must stand up on its own merits alone—whether we're looking at the tale as told by a visual artist, musician, or a wordsmith."
The book was also made into an audio book, again with attention to detail. It was recited by a skilled actor, with sound effects and background music.
A forty-five minute original soundtrack was created by the head of the Composer's Guild of America, James Guymon. Performed by highly skilled musicians, portions sound reminiscent of Joe Satriani's work, or that of Pink Floyd. This is highly appropriate because in the novel, Bron works at becoming the world's greatest guitarist and idolizes Joe Satriani. The album is a masterpiece in itself.
Finally, Farland released it as an e-book and also as an enhanced novel, which is something more than an e-book. An enhanced novel takes advantage of technologies recently made available on a newer class of e-readers such as the iPad 2 and Kindle Fire. These allow the e-book to contain sound effects, music, video, pictures, animations, author's notes, and games. This is where it all comes together.
Many enhanced novels have already been made with a number of different slants, each taking the technology in a different direction. What makes NIGHTINGALE different is that nothing is included that will interrupt the reading experience, only enhance it, to make it something more than reading. Music, art and animations are used only at the beginnings of chapters, to set the tone.
Die-hard paper-and-ink readers swear they will never read an e-book, but Farland says, "the enhanced novel, when done properly, can be something to experience and may be taking the branch of e-reading into the next evolution." Six different artists were commissioned to create the art in the enhanced novel as well as animators. This enhanced novel fuses different fields of artists, illustrators, animators, composers, musicians and writers to create an enhanced novel far greater than any writer could achieve alone.
East India Press' publicists say they find it difficult to convince paper-and-ink reviewers to agree to look at any enhanced novel. This is what one reviewer said once she gave it a try, "…It felt like I was experiencing the book, not just reading it… It definitely was a completely new experience for me to dive into!... I am SO glad I gave this a try. It really surprised me! I highly, highly suggest giving this book a try when it is released. I cannot emphasize enough just how good this story is! It's creative, imaginative, and the most unique book I have read this entire year, hands-down!" (http://www.hippiesbeautyandbooksohmy.com)
The book trailer at http://www.nightingalenovel.com/trailer shows off what an enhanced novel can add to the printed word. The trailer sets the mood for the novel using art, animation and music found in the enhanced novel.
"A thrilling ride, with plenty of twists, action, and amazing characters. I ripped through it. Highly recommended."

New York Times Bestseller
"A beautifully crafted experience: stunning art, haunting music and delightfully subtle animated accents all accompany a riveting and deeply human story. There is (quite literally) nothing else like it."

In all ways, NIGHTINGALE is engineered to be a modern classic fantasy series for young adults, perhaps even advancing the way we choose to e-read. But that wasn't enough for Farland and East India Press. Knowing that most people do not have the capability to read an enhanced novel, they created a web viewer that allows the enhanced novel to be accessed on any computer, no e-reader needed. Anyone can sample the enhanced novel for free at http://www.nightingalenovel.com or buy the enhanced novel web edition and read the entire enhanced novel from their computer.
David Farland is a multiple New York Times bestselling author with over fifty published novels who has won many awards, including the Philip K. Dick Memorial Special Award for Best Novel in English Language and the Whitney Award for Best Novel of the Year. He has also worked in Hollywood as a movie producer and was one of the designers for one of the best selling computer games of all time. This made him uniquely qualified to partner with East India Press and produce the world's most advanced enhanced novels. David Farland can be reached at http://www.davidfarland.com.