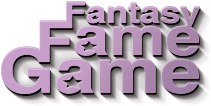 Everyone knows pop culture, but it's a lot harder to predict than most people think. That makes the game so much fun to play.
(PRWEB) February 16, 2012
Fantasy Fame Game introduces an online, social game that merges the excitement and addiction of fantasy sports with the burgeoning popularity and fun of Hollywood celebrities. The game was created based on two incontrovertible facts:
*** Over 32 million people play fantasy sports in the U.S. alone (a number that has grown by over 40% in four years time).
*** At no point in time has the fascination with Hollywood elite been more apparent and popular.
Adding to entertainment and gossip sites, Fantasy Fame Game introduces a point system and a multi-player game. Players begin by fashioning personalized wish lists to draft celebrities on to their teams. After the game begins, players add, drop, and trade celebrities to increase their team score. The goal of the game is to create and maintain a team of celebrities that garners the most media attention in a single scoring period.
Games can begin at any time and points are always scored in real time. Over 1000 celebrity profiles are tracked and ready to be added to teams. Over 2000 sources are scanned daily, with an average of more than 200 points awarded to teams every hour. Fantasy Fame Game also offers a solo mode with simulated opponents.
To celebrate the Academy Awards, all new leagues at Fantasy Fame Game will receive the red carpet treatment: all games will be FREE through the month of February. Try out FantasyFameGame.com and see if you can dominate the celebrity gossip and entertainment news cycle.
About Fantasy Fame Game
Fantasy Fame Game combines the excitement and addiction of fantasy sports with the fun and popularity of celebrity gossip and entertainment news. Celebrities score points by being in the news. Players score points by creating a team from over 1000 celebrities to compete in leagues of friends or against the computer. Points are awarded in real time from more than 2000 sources that are scanned hourly. For more information, visit FantasyFameGame.com.
###