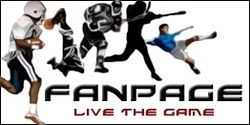 I grew up playing fantasy sports on on other sites. With the emergence of FanPage - they take fantasy sports to a whole new level
Toronto, Ontario (PRWEB) September 6, 2007
http://www.fanpage.com is launching an all new Fantasy Football Site, this new online football pool league is live now and includes fantasy football (Salary Cap football), Survivor Football and NFL Pick'em vs. The Spread.
Fanpage Salary Cap football allows players to act as GM with a budget of $100 million to build a roster of real life American professional football players. Your team's success is measured by the on-filed statistics of the players and the player with the most fantasy points at the end of the season wins. The winner of the pool wins a Nintendo Wii and second place through fifth place win cash prizes between $250-$50. There is also a weekly prizes to be won for the top spot. Salary Cap players can create a private league or participate in the Fanpage public league.
Fanpage Pick'em v/s The Spread is the game to test players smarts by picking the winners using the spread in all professional NFL games. All players have to do is enter their selections each week. They get points for every correct pick made, while we do all the hard work of gathering the results, and computing the point totals and standings. At the end of the season, participants are ranked 1-3 and win cash prizes.($250-$150-$100). If a member can correctly pick every game correctly against the spread for a single week he/she will win a bonus prize of $2000.
Fanpage survival football is a free game that challenges you to pick the winner of one NFL game per week (no spread). You win, you advance. The catch is you cannot pick the same team again for the remainder of the season. At the end if the season, all survivors will split a prize pool of $500.
Since its inception in 2006, fanpage.com has grown to include fantasy football pools with fantasy baseball, basketball and hockey coming soon. It's continuing to offer its members free games with the chance to win cash prizes, making it one of the only premier site that allows every member the chance to get in the game. Jay Furman a fanpage members says "I grew up playing fantasy sports on on other sites. With the emergence of FanPage - they take fantasy sports to a whole new level"
In addition to fantasy pools, fanpage provides users with the unique ability to upload videos, skin their page, rate teams, players and venues, and take sports quizzes. Our vision is to meet Web 2.0 with sports.
###