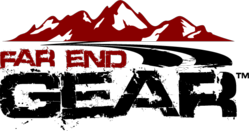 Tucson, AZ (PRWEB) June 27, 2013
Far End Gear™, creator of earphones and accessories designed for outdoor enthusiasts, has expanded its international distribution beyond the UK and Europe into Canada through Amazon.CA.
Far End Gear Owner Kevin Goldstein stated, "Until now, delivery to our customers in Canada took up to 3 weeks. Providing local delivery options will make purchases much more convenient for our Canadian customers." Shoppers can take advantage of Super Saver and Prime shipping, for faster or free delivery.
Far End Gear's most popular products are currently available through Amazon.CA; these include: BudLoks™ — earbud accessories that hold earbuds in place during activity, Brite Buds™ Reflective Cord Single Earbuds — the world's first reflective cord earphone, and XDU™ Single Earphones — the original single-sided stereo-to-mono earphone, now with a durable, fabric-wrapped cord.
Far End Gear's full line of products are already available in the UK and Europe through Amazon.co.uk, and in Germany through Amazon.DE. Far End Gear expects to have their full line of earphones available in Canada by the end of 2013. Visit http://farendgear.ca to browse available items.
About Far End Gear
Founded in 2011 by entrepreneur Kevin Goldstein, Far End Gear utilizes innovative thinking to develop unparalleled, multi-use gear for the outdoor enthusiast.
With his humble beginnings as an avid road cyclist and outdoorsman in Tucson, Arizona, Goldstein developed a product line of specialized earbuds that mixes both channels of stereo audio sound into a single ear; enabling the wearer to maintain alertness in any environment. Far End Gear continues to develop and produce specialized products that enhance the comfort and safety of those engaged in the outdoors.