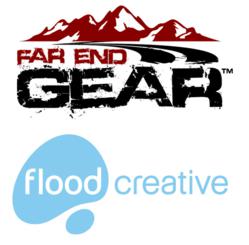 We always look forward to helping a growing company like Far End Gear position themselves in the marketplace...
Tucson, AZ (PRWEB) September 30, 2012
Far End Gear™, creator of earphones and accessories designed for outdoor enthusiasts, has redesigned its BudLoks™ product. Originally developed to replace the stock, in-ear budtips produced by other manufacturers, BudLoks gently lock into the bowl of the wearer's ear, comfortably locking it in place during general activity or vigorous exercise.
New features will allow for improved sound quality over the original design and increased compatibility with numerous earbud styles. To bolster the launch of the new design and encourage acceptance in retail sporting good settings, Far End Gear has chosen Flood Creative to develop new brand packaging.
Boasting an impressive client roster, Flood Creative continues to develop captivating, packaging designs for brands such as Breyers Ice Cream, Lipton, Body Armor and Fuze Beverage.
Far End Gear Owner Kevin Goldstein stated, "Partnering with a design company like Flood Creative marks a big step in our growth as a company. By harnessing their proven expertise in package design to compliment BudLoks quality product design, Far End Gear will be better poised to compete against more well known brands."
Paula Grant, Founding Partner at Flood, commented, "As a company founded on the passion to build new brands and modernize established ones, we always look forward to helping a growing company like Far End Gear position themselves in the marketplace with breakthrough and differentiated products."
The new BudLoks design is scheduled for release in mid-November; in time for the holiday shopping season. They will be made available through the company website FarEndGear.com and in limited retail locations, along with other Far End Gear products: recently released Brite Buds™ Reflective Cord Earbuds, Short Buds™ Short Cord Earbud (designed for clip-on style music players when attached to a collar, hat, or helmet), and OneGood™ Earphones — the original line of single-sided stereo-to-mono earphones.
About Flood Creative
Flood Creative was born from its founders' dream to combine their global design experience with entrepreneurial business spirit. Since 2002 they have enjoyed continued success by applying this passion to all partnerships - big or small. They seek to create a vision for brands, both new and old, that motivates, inspires and most importantly, boosts brand value. Clients include Coca-Cola, Unilever, Kraft Foods, Pepperidge Farm and ULTA.
About Far End Gear
Founded in 2011 by entrepreneur Kevin Goldstein, Far End Gear utilizes innovative thinking to develop unparalleled, multi-use gear for the outdoor enthusiast.
With his humble beginnings as an avid road cyclist and outdoorsman in Tucson, Arizona, Goldstein developed a product line of specialized earbuds that mixes both channels of stereo audio sound into a single ear; enabling the wearer to maintain alertness in any environment. Far End Gear continues to develop and produce specialized products that enhance the comfort and safety of those engaged in the outdoors.