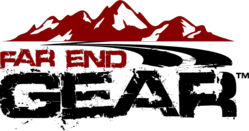 Tucson, AZ (PRWEB) October 31, 2012
Far End Gear™, creator of earphones and accessories designed for outdoor enthusiasts, has established a reseller relationship with UK based Sport Explorer UK. Far End Gear's full line of products are now available in the UK and in Europe through Amazon.co.uk, and in Germany through Amazon.DE.
Far End Gear Owner Kevin Goldstein stated, "Sport Explorer UK has a passion for promoting safety related sporting goods and having such a partner in the UK is the ideal way to lower delivery costs for our customers."
Joseph Hopcroft of Sport Explorer UK commented, "The sports of cycling and running have gained awareness and participation following London's hosting of the Olympics. We want to bring forward products that encourage safety and greater enjoyment in those sports."
Far End Gear products include: BuDLoKs™ — earbud accessories that hold earbuds in place during activity, Brite Buds™ Reflective Cord Earbuds, Short Buds™ Short Cord Earbud (designed for clip-on style music players when attached to a collar, hat, or helmet), and OneGood™ Earphones — the original line of single-sided stereo-to-mono earphones.
About Far End Gear
Founded in 2011 by entrepreneur Kevin Goldstein, Far End Gear utilizes innovative thinking to develop unparalleled, multi-use gear for the outdoor enthusiast.
With his humble beginnings as an avid road cyclist and outdoorsman in Tucson, Arizona, Goldstein developed a product line of specialized earbuds that mixes both channels of stereo audio sound into a single ear; enabling the wearer to maintain alertness in any environment. Far End Gear continues to develop and produce specialized products that enhance the comfort and safety of those engaged in the outdoors.