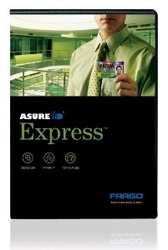 This is a major breakthrough in customer value
MINNEAPOLIS (PRWEB) August 9, 2007
"This is a major breakthrough in customer value," said Steve Blake, vice president of product marketing for systems and solutions. "Fargo Asure ID Express is a fully featured application that will serve the needs of most entry and mid-level customers. With a retail price of $825 US, customers will realize a savings of up to 35% on a complete ID system versus our competition."
The Express version is a powerful and easy-to-use stand-alone photo ID card software application with advanced card design and production capabilities for:
-- Single-sided and dual-sided card printing
-- Magnetic stripe and bar code machine-readable data
-- External database connectivity
End users can try out Fargo Asure ID Solo or Express at no charge at http://www.fargo.com/asureid. Asure ID Express also provides an easy upgrade path to Asure ID Enterprise(TM) or Asure ID Exchange(TM), for those customers who need enterprise-wide software on a network, links to multiple databases, real-time data exchange and smart card capability.
In addition, Fargo is now offering free, unlimited Asure ID software technical support by phone and e-mail throughout the remainder of 2007. Technical support can be accessed at http://www.fargosupport.com/.
About Fargo
Founded in 1974, Fargo Electronics is a global leader in the development of secure technologies for identity card issuance systems, including secure card printer/encoders, materials and software. The company has sold more than 140,000 systems in the U.S. and over 80 other countries worldwide. Fargo card issuance systems reduce vulnerabilities and potential for loss of time, money and lives by continually improving the security of identity credentials. Fargo provides physical, information and transaction security for a wide variety of applications and industries, including government, corporate, national IDs, drivers' licenses, universities, schools and membership.
Fargo is an HID Global company. HID is a leading supplier and manufacturer in the access control industry, serving customers worldwide with proximity and contactless smart card technologies; central station managed access controllers; secure and custom card solutions; photo ID and ID application control software; and electronic cylinders. HID Global is part of the ASSA ABLOY family of companies.
Fargo is based in Minneapolis, Minnesota, USA. Fargo markets its products through a global distribution network of professional security integrators. For more information about Fargo, visit http://www.fargo.com.