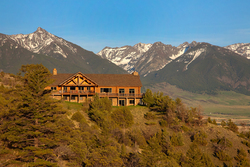 "While researching auction firms, the idea of creating a ranch and farm auction option from within Hall and Hall became more intriguing," said Taylor. "We felt compelled to offer a service that was superior to those currently available."
Billings, MT (PRWEB) March 7, 2011
After more than six decades of providing exceptional real estate services, Hall and Hall, the largest ranch real estate company in the Rocky Mountain West, has unveiled Hall and Hall Auctions to complete its suite of services to owners and prospective owners of Investment Quality Rural Real Estate. Hall and Hall has been a leader in the farm and ranch real estate business since 1946, offering the highest level of service to both buyers and sellers through private treaty sales, financing and management divisions. However, as farmland and ranchland has increasingly become a recognized asset class for a growing number of investment portfolios, the need to create liquidity through a time sensitive marketing program was recognized. For more information on ranch and farm auctions, visit http://www.hallhall.com or call 406.656-7500.
"There are many reasons we decided to move into the auction market," said Hall & Hall President, Jim Taylor. "The most critical one is that ranchland and farmland is increasingly sought after, and a broad cross section of investors, from hedge funds and private equity to wealthy individuals and families, are interested in having a portion of their portfolio invested in this asset class, which is available in a very limited supply."
Auctions have for centuries been a way to achieve true price discovery. It has been used as the primary method of selling for virtually every legitimate asset class known to man – from stocks and bonds to commodities to race horses to rare works of art and vintage wines. These investment assets are all rendered immediately liquid through an auction. Certain types of land – primarily smaller tracts of farmland in the Midwest – have traditionally been sold using the auction method. However, this method has only rarely been used to sell farmland and ranchland throughout the Great Plains and Mountain West.
"While researching auction firms and what they had to offer, the idea of creating a farm auction option from within Hall and Hall became more intriguing," said Taylor. "We felt compelled to offer a service that was superior to those currently available."
Scott Shuman, one of the industry's most highly respected and successful marketers of farmland and ranchland, will head up Hall & Hall Auctions. Shuman brings over 25 years of experience and an impeccable reputation with him. His innovative and thoroughly transparent methods, combined with the Hall and Hall "rolodex" of over 30,000 prospects, will allow the company to create liquidity and true price discovery for farm auctions and ranches for sale that it has not had before.
Hall and Hall was formed in 1946 as an agricultural mortgage company, and has since branched out into farm and ranch brokerage, appraisals, resource management and enhancement, retained search, and consultation on conservation easements and stewardship plans. Hall and Hall has emerged as the largest full service rural real estate firm within the Rocky Mountain West and Great Plains regions, managing more than 800,000 acres of land, and servicing a loan portfolio of more than $400 million. A unique partnership between its offices in Montana, Wyoming, Idaho, Texas, Kansas, and Colorado ensures that the client receives local knowledge and personal service as well as the international perspective needed to make informed acquisition and management decisions. Join us on Facebook at Hall and Hall or follow us on Twitter at Hall and Hall. Contact Scott Shuman for more information on Hall and Hall Auctions: scott(at)hallandhall(dot)com or 800/829.8747.
###