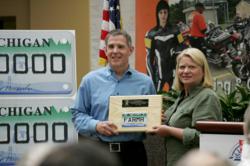 I am pleased to present this award to Farmers Insurance for its role in training motorcyclists in western Michigan
Grand Rapids, MI (PRWEB) May 13, 2011
Farmers Insurance welcomed Michigan Secretary of State Ruth Johnson to their Caledonia campus on Thursday, May 12th, 2011 to receive a recognition award from the State of Michigan for Outstanding Performance in Motorcycle Safety. Secretary Johnson arrived on the campus riding a Harley-Davidson along-side Jack Hannigan, Executive Vice President of Farmers Independent Agent Operations and esteemed Farmers Employees and community members.
"I am pleased to present this award to Farmers Insurance for its role in training motorcyclists in western Michigan," says Secretary of State Johnson. "For the last decade, Farmers has partnered with the Motorcycle Safety Program to provide parking lots for ranges, buildings for classrooms, storage space and other resources, all at no cost…I thank them for their continued support and dedication to motorcycle safety."
For the past decade, Farmers has partnered with the Department of State Motorcycle Safety Program and Grand Rapids Community College to provide parking lots for motorcycle ranges, buildings for classrooms, storage space and other resources to conduct motorcycle safety courses. Hannigan was presented with a plaque commemorating Farmers' years of commitment to the Motorcycle safety.
"Farmers Insurance recognizes the importance of motorcycle safety and is proud to be a part of the continuing safety program on our campus here in Caledonia," says Hannigan. "As an advocate for motorcycle safety awareness Farmers is honored to be recognized for continued years of service. We look forward to supporting motorcycle safety awareness well into the future and making sure riders are as safe as possible on the road."
Farmers is a trade name and may refer to Farmers Group, Inc. or the Farmers Exchanges, as the case may be. Farmers Group, Inc., a management and holding company, along with its subsidiaries, is wholly owned by the Zurich Financial Services Group. The Farmers Exchanges are three reciprocal insurers (Farmers Insurance Exchange, Fire Insurance Exchange and Truck Insurance Exchange), including their subsidiaries and affiliates, owned by their policyholders, and managed by Farmers Group, Inc. and its subsidiaries. For more information about Farmers, visit http://www.Farmers.com or http://www.Facebook.com/FarmersInsurance.
###