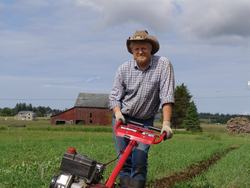 We cater to the unique Ferndale perspective
Ferndale, WA (PRWEB) August 14, 2007
The Ferndale Farmers' Market is currently seeking locally based produce farmers and gardeners who would like to sell their produce every Saturday morning through the month of October. According to farmer and organizer Walter Haugen, the Ferndale, Wash.-based market is small and informal -- and run by farmers.
"We cater to the unique Ferndale perspective," Haugen said. "We can't describe it but, we know it's there."
Haugen said the market operates June through October, on Saturdays from 11 am to 3 p.m. in the parking lot at Benson's Country Market, on the west side of Ferndale. To find the market, take Main Street west to the intersection of Douglas Road, just past the library.
"Buying local produce not only supports farmers in your community, but the produce is fresher and retains more vitamins and minerals than food shipped from long distances," Haugen said. "Eating foods that are in-season locally also promotes better health by satisfying your tastes and nutritional needs that change seasonally."
Ferndale Farmers' Market is in its second year of operation, and Haugen said he is actively encouraging more local farmers to participate. Haugen said there are no stall fees or pricing restrictions, and home gardeners are encouraged to sell their bounty if they have a bumper crop of even one or two items. Interest in the market will hopefully parallel the growth of the city's community gardens, slated to open next spring, said Haugen.
"Our members participate in numerous community programs, including Food to Bank On, which distributes fresh produce to area food banks, Local Harvest, Growing Washington, Sustainable Connections, Northwest Youth Services, Red Mountain House Foster Care Assessment and Family to Family," Haugen said. " We are also listed on the Whatcom County Farm Map."
About the Ferndale Farmers' Market Founders
Walter Haugen, the organizer and contact person for the Ferndale Farmers' Market, is a small-organic grower from Ferndale. He can trace his farming lineage back to 1602 in Sogn, Norway, and grew up on a dairy farm in Minnesota. After many adventurous twists and turns in his adult life (including teaching anthropology and being a ringmaster in a circus), he is now back on the farm, pulling weeds instead of milking cows. His significant other, Toni Lyons, is a social worker of long standing and continues to try and save the world, one child at a time. She finds pulling weeds to be a relaxing change of pace. They are trying to model their farm on sustainable and calorie-efficient methods, which (of course) includes pulling lots of weeds. Produce gardeners, farmers or anyone interested the Ferndale Farmers' Market should contact Haugen at (360) 312-0335.
###