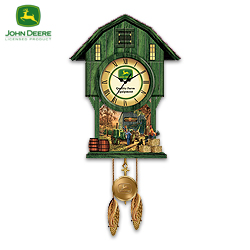 Featuring accurate quartz movement, and a swinging brass-toned pendulum between two decorative golden corncobs, this limited-edition cuckoo clock is over 1-1/2 feet high
Niles, IL (PRWEB) May 28, 2011
An institution in American farming receives a timely tribute from a company known for "Innovation, Artistry and Design of Enduring Value." The Bradford Exchange announces the release of the "Classic Times" John Deere clock, limited-edition home decor honoring the longstanding history of quality farm equipment from the legendary John Deere.
Founded in 1837 by John Deere, who developed the first commercially successful cast-steel plow, Deere & Company is the leading manufacturer of agricultural machinery in the world. Renowned for the quality and performance of their farming equipment, John Deere is a name that is trusted among career farmers and amateur gardeners alike, garnering them a lauded company slogan "Nothing runs like a Deere."
The reputation of John Deere has earned them quite a following. Proud converts of Deere & Company's quality farming equipment love to share their John Deere pride 'round the clock. That's why The Bradford Exchange is excited to introduce this John Deere collectible clock to the marketplace. Featuring accurate quartz movement, and a swinging brass-toned pendulum between two decorative golden corncobs, this limited-edition cuckoo clock is over 1-1/2 feet high. It's not available in stores, and it arrives with a Bradford Exchange Certificate of Authenticity to ensure its optimum collectible quality.
Popular rural American artist Dave Barnhouse's portrait of a John Deere tractor scene is showcased across the front of this handcrafted wood-cased cuckoo clock, which has been fashioned into the shape of a vintage green barn. Accompanying Barnhouse's portrait is a fully-dimensional barnyard scene with animals, hay bails and barrels. And of particular interest to John Deere historians is the nostalgic-era 1956 logo on the clock face, supported by an hourly, rooster crow-announced appearance of a sculptural Diesel 720 tractor from behind the "barn doors."
The "Classic Times" John Deere cuckoo clock is also backed by The Bradford Exchange's one-full-year money-back guarantee, and they provide free return shipping to ensure complete satisfaction, delivering shopping confidence to their customers that is incomparable.
In addition to the John Deere cuckoo clock, much more John Deere collectibles and John Deere decor is available at The Bradford Exchange Online. Visit http://www.bradfordexchange.com to browse their unique selection today.
###