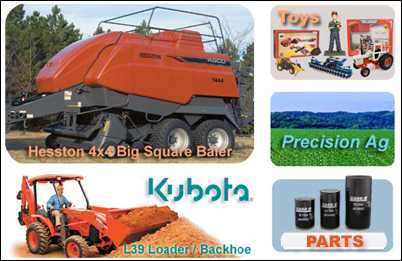 We've received very positive feedback from customers
Intercourse, PA (PRWEB) July 19, 2007
For more and more farmers when it comes to new or used farm equipment parts, the search begins and ends at Hoober.com. Since launching their online parts ordering capability earlier this year, Hoober, Inc., a Case-IH farm equipment dealer, has been pleased with the response from farmers.
"We've received very positive feedback from customers," said Tom Yohe, Hoober's general manager. "Convenience is important and customers like being able to order tractor parts from their computer."
Some of the biggest demand for parts on Hoober's web site comes from tractor owners - not surprising since most farming operations rely heavily on tractors. According to Yohe the orders for tractor parts, including everything from tractor filters and tractor mufflers to tractor paint are consistent day to day.
But while demand for Case tractor parts and parts for disc blades, hay equipment, combines, batteries, oil and more are high, Hoober's web site has also proved valuable for those looking to play as well as work.
"Without a doubt, we get a lot of orders for farm toys," said Yohe. "We have a good selection of farm toys to choose from and it's a great way for those future farmers and collectors to enjoy smaller versions of the big machines."
In addition to ordering parts, Hoober.com also features Hoober's complete used farm equipment inventory as well as information on Hoober's new agricultural equipment, equipment specials, construction equipment, rental units, apparel and collectibles.
About Hoober
Founded in 1941, Hoober, Inc. has four locations (Intercourse, PA, McAlisterville, PA, Middletown, DE and Seaford, DE) and serves agricultural and construction customers throughout the eastern United States.
###