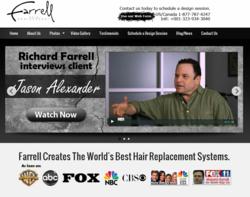 When I saw how Farrell Hair was transforming the lives of their clients, I wanted to develop their site to showcase the amazing work they're doing.
Los Angeles, CA (PRWEB) July 14, 2012
World renowned non surgical hair replacement company Farrell Hair launches new website with a new support section, video transformations and interviews with celebrities. The new website was developed by 981 Media.
Many sufferers of hair loss feel they have to contend with risky surgical procedures or harsh chemicals, things that can be very damaging and are often ineffectual.
Clients of Farrell Hair Replacement have found a better option. Farrell Hair Replacement creates what they call "ultra-custom" non-surgical hair replacement systems for clients of both genders. They are so named due to the great pains they take to provide a truly customized hair system. Most companies' idea of customization is to take head measurements and customer specifications before outsourcing the order to be mass-produced in a foreign country, leaving clients wearing a somewhat generic hair system.
For Farrell Hair Replacement, customization does not involve outsourcing and requires a lot of labor, all of which is done within the company. After receiving a client's order, they take six to eight weeks to make a unique hair system. They make use of high quality human hair that is identical in color, density, and texture to the client's. Farrell Hair Replacement looks at creating hair systems as an art, and creates undetectable hair systems with natural hairlines that can be worn throughout any activity and parted in all possible ways. In addition, the hairline can be entirely exposed without any detection.
When Farrell Hair Replacement decided to build a new website, they wanted a company that would create the same uniqueness and ingenuity in their website that they create in their custom hair systems. Farrell Hair Replacement chose 981 Media. To create the website, 981 Media made use of cutting edge technology, utilizing responsive web design, and video marketing. They even conducted interviews with stars like Jason Alexander and produced video transformation videos so viewers can see exactly how the Farrell Hair ultra custom replacement system works . The result is a website with state-of-the-art technology and a wealth of information to educate hair loss sufferers.
"When I saw how Farrell Hair was transforming the lives of their clients, I wanted to develop their site to showcase the amazing work they're doing." says Austin Brooks, the creative director at 981 Media.
To help existing clients, 981 Media incorporated a support system within the site. This system allows clients to log into the website and watch video tutorials on the Farrell Hair system as well as tips on how to get the most out of their hair replacement system.
About Farrell Hair Replacement:
Founded by Richard Farrell, Farrell Hair Replacement helps men and women who are suffering from hair loss for every imaginable reason. They have clients throughout the world, and have even won the praise of various celebrities. They create natural, high-quality, customized hair systems designed by Richard himself. The system has been voted "Best in the World" for nine years in a row. To learn more, call 1877-787-4247 or visit the company website at http://farrellhair.com/.
About 981 Media:
981 Media serves companies who want the very best marketing tools around and specializes in using multiple forms of media to promote businesses. They offer award-winning web design, video production, corporate photography, mobile apps, and much more. They chose their name for its ability to represent what they give to their clients. The numbers 9, 8, and 1 mean completion, fulfillment, abundance, power, creativity, and confidence. 9 is also the square root of 81, and together they symbolize synergy and maximized outcomes. To learn more, give them a call at 877-981-6334 or get in touch at http://www.981media.com/