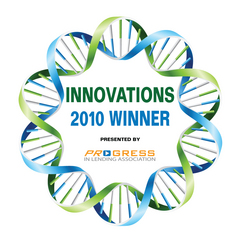 "We wanted to recognize innovations introduced into the mortgage market in 2010 that are truly game changing for the mortgage space. FASconnect met all of our criteria." Tony Garritano, Founder and Chairman of PROGRESS in Lending Association
Austin, TX (PRWEB) April 5, 2011
Field Asset Services (FAS), the nation's leading provider of field services to the REO industry, today announced it has earned the designation of being named among the Top Five Innovations of 2010 by PROGRESS in Lending (PIL) Association. FAS was presented with the award for its work in creating and developing FASconnect™, the Company's online photo management system for field services proof of performance reporting. PIL hosted an awards ceremony for all honorees on March 27th in Ft. Lauderdale, Florida.
"We wanted to recognize innovations introduced into the mortgage market in 2010 that are truly game changing for the mortgage space," said Tony Garritano, Founder and Chairman of PROGRESS in Lending Association. "We were looking for innovations that offered industry significance, originality, and provided hard cost and time savings. FASconnect met all of our criteria. We are proud to recognize FAS's work and designate their efforts a Top Five Innovation of 2010."
A streamlined and tamper-proof online photo management system, FASconnect provides a more efficient and accurate process to capture, document and securely share photos of work performed in the field. In just one year, FASconnect not only earned a Top Five Innovation Award but also surpassed the milestone of successfully processing over 100 million photos.
Remedy Field Services based in California has been using FASconnect since its introduction in 2010 and was responsible for the 100 millionth photo uploaded. According to owner Aaron Davitian, "The benefits FASconnect has provided our business are innumerable. We receive an average of 30 work orders a day in addition to processing up to 1500 recurring services per month. This work can equate to 20,000 or more photos that need to be managed on a weekly basis. With FASconnect, we don't miss a beat from creating invoices to moving pictures quickly through our systems. More importantly, we've been able to efficiently manage the increasing volumes of work while maintaining FAS' high standards of quality for their customers."
Certified Service Records Deliver Guarantee of Work Performed in the Field
Powered by Pruvan, a leading service record technology provider, FASconnect was designed to increase the efficiency and eliminate the subjectivity of traditional photo management systems. Through the integration of unique GPS-certification and time and date-stamping capabilities, FASconnect can offer lenders and service providers a "certified" proof of performance guarantee of work performed it the field.
"Traditional photo management systems are not able to offer lenders the security they need to know the right work is being performed on the right property and to their level of excellence," said Paul Palmer, President of Pruvan. "By integrating GPS and date/time stamping capabilities into the technology, we've been able to transform the reliability and ultimately the usefulness of the photo management process."
By using native Smartphone technology, FASconnect enables work crews to track start/stop times, geo-tag locations, date stamp and easily transfer photos directly from the jobsite to the office. Office staffs are then able to quickly organize, review and upload these photos and complete work orders, all from a single screen. This process enables FASconnect to deliver customers a tamper-proof, Certified Service Record of when, where and for whom the work was performed. By leveraging the Pruvan Cloud, FAS can then associate photographic evidence with their work orders and securely manage the entire photo archiving and storage process.
"Earning a Top Five Innovation Award is truly a rewarding accomplishment for FAS," said Dale McPherson, President and CEO of Field Asset Services. "Since it was first rolled out in early 2010, FASconnect has been processing, on average, 500,000 photos per day. We've just been amazed at the benefits it has delivered to the field crews, vendors and our customers from business efficiency improvements to operational cost reductions. FASconnect is a disruptive technology that is revolutionizing the field services industry."
About Field Asset Services
Field Asset Services (FAS) is the premier Property Preservation, REO Maintenance and Repair Services company in the United States, servicing more than $10.8 billion in residential assets on behalf of its clients. FAS works with 26 mortgage and asset management clients nationwide, servicing more than 120,000 active properties on a recurring basis. For more information about FAS, please visit http://www.fieldassets.com.
About FirstService Corporation
FirstService Corporation (NASDAQ: FSRV; TSX: FSV and FSV.PR.U) is a global diversified leader in the rapidly growing real estate services sector, providing services in commercial real estate, residential property management and property services. Industry-leading service platforms include Colliers International, the third largest global player in commercial real estate services; FirstService Residential Management, the largest manager of residential communities in North America; and TFC, North America's largest provider of property services through franchise and contractor networks.
FirstService generates over US$1.8 billion in annualized revenues and has more than 18,000 employees worldwide. More information about FirstService is available at http://www.firstservice.com.
About Pruvan
Pruvan is transforming proof of performance reporting for the field services industry. With the development of an enterprise scale, comprehensive and simple to use solution, Pruvan is enabling service providers to more easily and efficiently manage their field crews, the work they complete, and the required documentation for the customer. Pruvan's solution can dramatically reduce operational costs and workload improving productivity and organizational efficiency. Pruvan is privately held and headquartered in Round Rock, TX. For more information, please visit http://www.pruvan.com.
###