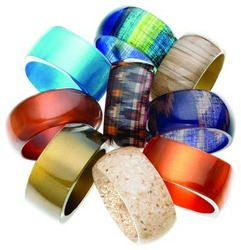 There is something for every woman this upcoming season in these collections.
New York, NY (PRWEB) September 14, 2010
GeoArt by Cynthia Gale launches two new bangle collections this fall: Ikat Exotics and Vintage Lace. The perfect fusion of East meets West, Indonesian Ikat fabric and kebaya lace are set into statement resin jewelry, perfect for trendy street wear this fall or at a holiday party.
Says Cynthia Gale of her inspiration for Ikat Exotics, "One of the first items I ever purchased in Indonesia was a pair of intricately woven Ikat pants, a treasured possession for many years! I found that Ikat complemented many trends in my closet, offering a hippie chic flavor to my wardrobe. This season, the unique color blends and detailed weaves of Ikat are everywhere in the fashion scene, which makes an Ikat Exotics bangle the ultimate fall accessory."
To bring out the color of the Ikats, the collection also features fashion bangles with Balinese sand, raffia and colorful geometric shapes that work back with the autumn color palette.
In contrast, the Vintage Lace bangle collection moves away from the warm colors of Ikat Exotics and pulls GeoArt's bangles further into holiday season. These feature classic silhouettes and lace from Indonesian kebayas, which are traditional ceremonial blouses. Having been inspired by the beauty of the keyaba while attending ceremonies in Bali, Cynthia Gale has coordinated four styles of lace bangles in gold, red, black and white, and has worked them back with black and white batik bangles featuring hand painted gold, as well as faceted painted solid styles.
Says Olga Gonzalez, Sales and Marketing Manager for GeoArt, "There is something for every woman this upcoming season in these collections: Ikat mixed with natural elements for the fashion forward woman on the go and lace complementing batiks for a no-fuss, classic look."
To purchase bangles, visit the GeoArtNYC.com website to view select bangle styles or to locate one of the many retail locations that carry GeoArt by Cynthia Gale.
About GeoArt by Cynthia Gale:
Specializing in artisan-crafted sterling silver jewelry, Cynthia Gale's signature collections are licensing partnerships with more than fifteen of the nation's top museums and cultural institutions. The GeoArt by Cynthia Gale line has evolved from ideas reflecting the rich cultural diversity of New York City and Cynthia's passion for it. The GeoArt philosophy is simple: to create exquisite, quality jewelry designs inspired by art and the world around us.
Contact:
GeoArt by Cynthia Gale
8 East 36th Street, 3rd Floor, New York, NY 10016
Phone: 212.481.1845 Toll Free: 888.436.2781
Fax: 212.481.5296
###