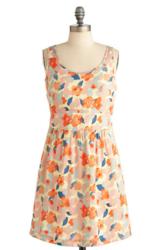 We're stocked with cute spring dresses by Darling and Tulle, and with a variety of sun hats and shades to keep you amazed in the shade
San Francisco, CA (PRWEB) April 26, 2012
Gigi + Rose is Ghirardelli Square's fashion boutique that provides San Francisco Bay Area residents with feminine gift items, women's clothing, kids' clothing and accessories. Along with the arrival of spring, Gigi + Rose is proud to announce a full house of new fashion items.
"We're stocked with cute spring dresses by Darling and Tulle, and with a variety of sun hats and shades to keep you amazed in the shade," Kristina De Pizzol, owner of Gigi + Rose, said. "You will also find fabulous tops by Free People and more. Don't be shy about accessorizing with our unique collection of charming jewelry, wallets by Hobo and bags by Tano."
Given the opportunity, Gigi + Rose will dress customers from head to toe in everything necessary to enjoy the spring season, whether it be Toms shoes or a spring dress.
"Don't forget about our pretty princess and fun fairyland sections for those dreamy little girls in your world!" De Pizzol said.
Gigi + Rose captures the discerning market of the San Francisco Bay Area and offers anything from clothes and fashion accessories to gift items and specialty candies to kids' toys and baby gear.
For more information about the spring collection or any of Gigi + Rose's products or services, call 415-765-9060, view the fashion boutique on the web at http://www.gigiandrose.com or visit 901 N. Point, Suite H103, in San Francisco.
About Gigi + Rose
Gigi + Rose is a high-end San Francisco fashion boutique that provides women's clothing, kids' clothing, baby clothing, bags, accessories and more. Located in Ghirardelli Square in San Francisco, the shop features collections ranging from the industry's finest baby gear to unique kids' toys and fun accessories.
Gigi + Rose is part of Ghirardelli Square's movement to bring locals, and not just tourists, down to visit the shops in the complex.